Indian yogi Baba Ramdev fasts against corruption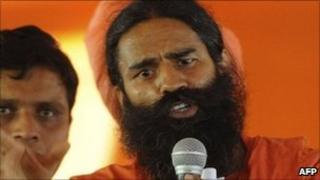 Popular Indian yogi Baba Ramdev has started an indefinite fast in a bid to prompt the government to enact hard-hitting anti-corruption measures.
The yogi, whose daily TV programme is watched by millions, began his fast after cabinet ministers failed to convince him to call it off.
Baba Ramdev wants the government to recover "black money" - suspected bribes held in foreign bank accounts.
He called for the death penalty for corrupt government officials.
"There is a powerful anger in the people of this country. They want urgent action," he said.
If "black money" paid in bribes were recovered, he told supporters in Delhi as he began his fast, "no one will be hungry, uneducated, unemployed".
India's government has been rocked by a series of corruption scandals. But despite the intervention of four federal ministers on Friday, Baba Ramdev could not be convinced to call off what he described as his "fast unto death".