India: Row on feeding children live fish as asthma cure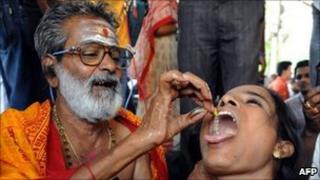 Campaigners in southern India want children to be made exempt from a traditional medical practice.
Each year thousands gather at a festival in the state of Andhra Pradesh to swallow live fish with herbal paste.
But a children's rights group is now arguing that the practice is potentially harmful.
It wants children under the age of 14 to be excluded from it, arguing that it poses a risk to health. The organisers deny this.
The controversial fish medicine has been administered for more than 150 years.
Every year thousands of people flock to the two-day event in Andhra Pradesh to be given a free dose of small wriggling fish which have had a special paste inserted into their mouths.
The Goud family, which organises the event, say this combination provides a permanent cure for asthma.
The family says its ancestors were given information about the ingredients of the special paste from a saint in the 19th century.
They promised to offer the treatment for free and to keep the ingredients secret.
Fish medicine 'unhygienic'
This year's event is scheduled for 8 and 9 June. But its activities may be curtailed.
A children's rights group, Balula Hakkula Sangham, wants the authorities to prevent children from being given the treatment.
It argues that the practice is unscientific and unhygienic. It also wants the paste to be subjected to modern medical tests.
After accepting a submission from Balula Hakkula Sangham, the Human Rights Commission of Andhra Pradesh has ordered a report on the issue, to be delivered on 6 June.
The Goud family denies that their treatment poses any risk to children's health.