India state unveils new farmland acquisition policy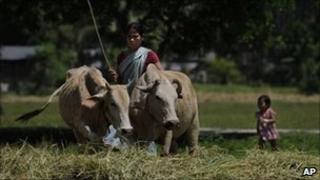 India's Uttar Pradesh state has unveiled a new policy making it easier and more profitable for famers to sell land, following recent angry protests.
Chief minister Mayawati said it would ensure a seller's market for farmland. It would also smooth the way for land to be developed for infrastructure.
Land for industry is a burning issue as India tries to balance a growing economy with the interests of the poor.
Last month the state became embroiled in a bitter row over farmland sales.
Congress party MP Rahul Gandhi accused state government forces of murdering farmers who were protesting against the government takeover of their farmland to build a new road.
The state government vehemently denies the charge, adding that no human remains were found in the villages where the killings were alleged to have taken place.
'Facilitator'
"Under the new policy, the state government would only be involved in notifying and earmarking the boundary of the land. But the price of the land and other modalities would be decided by the buyers and the sellers," Ms Mayawati told reporters in the state capital, Lucknow, on Thursday.
"The role of the government now would be that of a facilitator only," she said.
Opposition parties said the new plan was a "big fraud" and an attempt to misguide farmers agitating for a better deal for their land.
Ms Mayawati's land policy comes soon after Mr Gandhi's accusations which ignited a bitter political row in a state which goes to elections early next year.
Mr Gandhi, the son of Congress party president Sonia Gandhi, visited the twin villages of Bhatta-Parsaul in Uttar Pradesh's Greater Noida area after violent protests by farmers angry over land acquisition.
Two policemen and two villagers were killed during clashes between villagers and police in the area.
Mr Gandhi, a rising political star seen by many as a future prime minister, said there was a heap of ash in the village "with dead bodies inside".
A BBC reporter who later visited Bhatta-Parsaul found no one to support the Congress MP's claims that farmers had been killed and women raped.