'Three militants' killed in Kashmir clash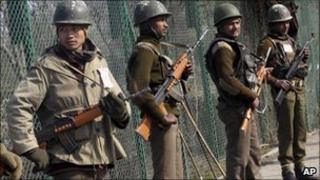 Security forces in Indian-administered Kashmir have killed three suspected members of the Lashkar-e-Taiba (LeT) militant group, an army spokesman says.
Fighting broke out after security forces surrounded a house in Sopore where militants had taken shelter.
There has been a lull in violence in Kashmir, which is claimed by both India and Pakistan.
Thousands of people have been killed in Kashmir since an armed revolt erupted in 1989.
The fighting broke out on Thursday evening when paramilitary forces and the local police launched an operation in the Seer area of Sopore, north of Srinagar.
The army spokesman said that the militants were holed up in a house which was under construction.
"All the three militants have been killed and the operation is over," defence spokesman JS Brar told the Press Trust of India news agency.