Ominous signs for Afghanistan's north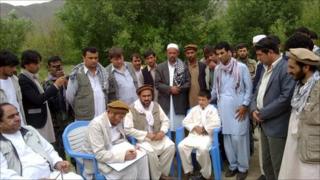 The north was once the most peaceful part of Afghanistan. But as Nato prepares to transfer control of parts of the country to Afghan forces in July, riots, suicide bombings and high-profile killings point to an ominous decline in security. The BBC's Bilal Sarwary reports.
Last week the memorial service for one of the Taliban's most determined opponents in northern Afghanistan took place in Farkhar, home to pistachio forests and a serene valley with a shallow river flowing through.
Gen Daud Daud had been killed in a Taliban bomb attack along with the police chief of Takhar province. Gen Daud was the interior ministry's most senior police general in the north and a key player in Nato's plan for handing over security to local forces.
It was a solemn scene and the grief was palpable. Hundreds of mourners from all walks of life gathered there because Gen Daud was a charismatic leader who understood the contradictions of this country.
But they also talked with alarm of the growing insecurity that comes with living in the north.
Taliban return
"The Taliban are spreading like wild fire," said an angry Mohammad Jan who had come from neighbouring Kunduz province.
"Try and take the road from north-eastern Baghlan province to Takhar via Kunduz. You are guaranteed a Taliban ambush."
All three of these provinces had been cleared of Taliban and al-Qaeda insurgents last winter. But the Islamic Movement of Uzbekistan, the Haqqani militant network and the Taliban have returned, according to one security official.
Gen Daud predicted this. Late last year, on one of his clearing operations, he warned: "In a few months, the weather will be warm and there will be more greenery. The Taliban will be back."
Afghan intelligence officials say al-Qaeda wants to destabilise the north and that the key Nato supply line is already under attack between the Central Asian republic of Tajikistan and the Afghan provinces of Kunduz and Baghlan. And in remote north-western Faryab province, clashes between the Taliban and security forces have displaced thousands of people.
Handing over the northern city of Mazar-e Sharif to Afghan forces in July is already enshrined in plans announced by Hamid Karzai earlier this year.
And so Gen Daud was determined to check the Taliban in northern Afghanistan. But the challenges were obvious.
Only last month, he said the authorities had seized "60,000 bullets and more than 500 guns in Mazar-e Sharif".
He was in close contact with district governors, police chiefs and other officials of northern areas seeking reinforcements, air support or weapons to deal with insurgents.
The deteriorating security situation was laid bare to the rest of the world on 1 April when seven UN staff members were lynched during riots in Mazar-e Sharif, regarded as a relatively peaceful part of the country.
The riots were over the burning of the Koran by a pastor based in the US. Angry crowds stormed the UN compound and, in what many believe was an act masterminded by militants, killed the UN workers.
During a visit to Mazar in January, UK Defence Secretary Liam Fox had described the city as "totally unthreatening".
It was a shocking incident but Balkh province - of which Mazar-e Sharif is the capital - has also seen a resurgence of the Taliban and the rise of other militant groups. They have spread their violent campaign to other previously peaceful areas of Balkh - Chimtal, Char Bolak and Sholgar.
Taliban 'worm's nest'
"A glass once broken can never be mended," said 62-year-old Mohammad Yasin, on the damage Mazar-e Sharif suffered following the attack. He migrated from Turkmenistan years ago to set up a small carpet shop near the city's Blue Mosque.
"This was one place in Afghanistan where people could walk freely on a road without bothering about their safety. But not any more," he said.
Mazar-e Sharif attracted foreign as well as domestic companies for business, offering them a profitable hub for trade across the nearby Uzbek border. The city's thriving economy is reflected in its asphalted roads, parks, housing townships and buildings under construction.
But locals are worried that the government's apparent inability to control violence will push the city, and eventually the whole of northern Afghanistan, back in time, reversing gains made since the Taliban ruled.
"When there is no security, there is no trade," said a prominent local trader on condition of anonymity. He likened the emergence of the Taliban in northern Afghanistan and other militant groups linked to it as a worm's nest. "You have Taliban in one place, and it soon spreads all over."
The authorities, however, say they are doing whatever is required to contain the insurgency.
"We have launched joint campaigns with our Western allies and killed dozens of Taliban field commanders, district governors appointed by them and other shadowy officials," an officer with the Afghan special forces said.
Gen Daud Daud was a crucial part of this plan. As the mourners paid their respects in Farkhar, they were also lamenting the uncertain fate that awaits Afghanistan's north.