India Tamil Nadu tongue cutting ritual criticised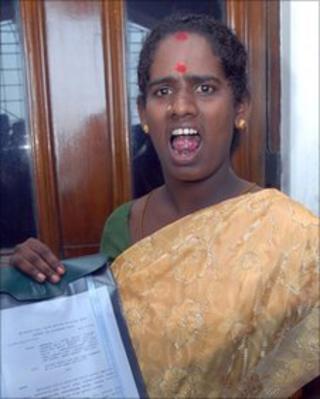 A human rights campaigner in India has criticised the award of a government job to a woman who cut off part of her tongue "to honour" a politician.
SV Raja Durai said the decision to give K Sarita a job preparing meals in schools would encourage copycat acts.
Ms Sarita maimed herself as an offering to the chief minister of Tamil Nadu state, and only swift medical help saved her tongue.
The case is not the first instance of maiming for "honour" in Tamil Nadu.
Cash compensation
A statement released by the government of Tamil Nadu said that Ms Sarita was an ardent supporter of Jayalalithaa's AIADMK party and prayed for divine intervention to secure victory in recently-concluded state elections.
After learning of the AIADMK'S huge victory in the polls, Ms Sarita went to the temple and cut off part of her tongue to fulfil her prayer.
The statement said Chief Minister J Jayalalithaa intervened when she heard about the incident and brought Ms Sarita to the state capital, Madras, to admit her into a private hospital.
The party covered all expenses arising from the surgery and Ms Sarita was given cash compensation of about $2,200, the statement said.
It is not known whether her ability to speak has been affected by her decision to harm herself.
Mr Durai has described the decision to give Ms Sarita a job preparing meals in a government school - with a monthly salary of about $45 - as "unprecedented and stupid".
"The decision by the government to give Ms Sarita a job will only encourage irrational copycat acts. There is no precedent for giving government jobs for this kind of act. This is against the law of the land," Mr Durai said.
"In Tamil Nadu political parties have over the last four decades encouraged stupid acts like self-immolation and cutting body parts to make a political point."
The state government statement said that Ms Sarita, a mother of two, was abandoned by her husband but gave few other details.
Such displays of sycophancy are not just limited to politics. Several fans of the Tamil film star Rajinikanth - who is currently in hospital - have undertaken various acts of self-harm in temple rituals for his recovery.