Afghan blast 'kills 10' labourers in Kandahar province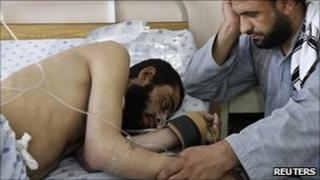 At least 10 road workers were killed and 28 injured in the southern Afghan province of Kandahar when their truck hit a roadside bomb, hospital officials say.
No group has said it carried out the attack. Last week gunmen shot dead 35 highway workers in Paktia province.
Road workers are frequently targeted by Taliban militants.
The Taliban recently declared a "spring offensive" of attacks. This is the fourth attack in as many days.
The labourers, who worked for a local construction firm called Nisa, were on their way to work when the bomb went off in rural Panjwayi district of Kandahar province.
According to the health director of Kandahar, Abdul Qayum Khan, 18 of the 28 injured are in critical condition.
The BBC's Bilal Sarwary in Kabul says attack comes only weeks after Nato forces conducted operations in the district, allowing for the reconstruction of roads and much-needed irrigation canals.
Only on Monday, our correspondent says, Nato commander Gen David Petraeus was in the district praising the reconstruction work and newfound security in the area.
Kandahar is considered to be the spiritual homeland of the Taliban. Earlier this month the city effectively came under siege as insurgents attempted to seize control of several government buildings.
There are also frequent attacks on security forces, both foreign and Afghan, operating across the province.
Soldier arrested
Over the last week there has been a dramatic escalation in the frequency of attacks nationwide.
On Saturday, a suicide blast at a hospital in Kabul killed six people and on Sunday gunmen stormed a government building in the city of Khost, also killing six. On Monday, a suicide blast killed four people in a crowded market place in eastern Laghman province.
A spokesman for Afghanistan's NDS intelligence agency told reporters on Monday that several insurgents had been arrested in connection with Saturday's attack.
One of those arrested is an Afghan National Army soldier working at the hospital. The spokesman said the soldier had provided the attacker with a uniform and valid ID card to help him get into the hospital.
Correspondents say that although Nato says it is making progress against the insurgents, the Taliban are still able to strike at will including at the heart of the Afghan government, often in its most heavily guarded bases.