India prime minister pledges billions to Africa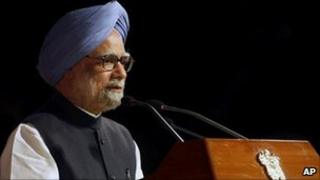 India will offer $5bn (£3.1bn) credit to African nations to help them meet development goals, Prime Minister Manmohan Singh has said.
Speaking at a meeting with African heads of state in Ethiopia, Mr Singh also pledged to support African education and infrastructure.
He is in Africa in a bid to expand India's trade with the continent.
Analysts say India is lagging behind its rival China in trying to invest in and access African markets.
Mr Singh is at the beginning of a six-day visit to the continent.
India's commerce with Africa is worth $40bn (£25bn) a year, but it is dwarfed by China, which does roughly three times as much business with the continent.
Manmohan Singh spoke of a unique relationship between India and Africa, which he said owed its origins to a common struggle against colonialism, apartheid and poverty.
He said Africa had the potential for major growth.
"Africa possesses all the prerequisites to become a major growth pole of the world. There is good news in the struggle against HIV and Aids, as well as in improving literacy, reducing infant mortality and building institutions of representative government," he said.
The BBC's Will Ross, in Nairobi, says that despite the global downturn, India and Africa have been fairly resilient - economies are steadily growing although many of the poor would say they are not feeling the benefit in their own pockets.
While India's economy expanded by more than 8%, India's business links in Africa are also growing - one example being Bharti Airtel spending $10bn (£6.2bn) in 2010 to take over mobile phone operations across Africa from the Kuwaiti firm, Zain.
The challenge for African leaders, our correspondent says, is how to boost the trade and move away from an over-reliance on single commodities - the continent's raw materials.