Pakistan: US drone strike 'kills seven' near Afghan border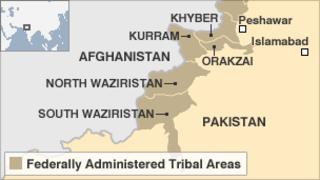 A US drone strike has killed seven militants in North Waziristan on the Afghan-Pakistan border, local officials have said.
The attack targeted a vehicle in the town of Pakistani town of Mir Ali, about 30km (19 miles) from Miranshah, the main town in the tribal district.
North Waziristan is known to be a Taliban and al-Qaeda stronghold and is often the target of drone attacks.
On May 12 another US drone strike also killed seven people in the area.
United States officials do not routinely confirm that they have carried out drone attacks, but analysts say that only US forces have the capacity to carry out such strikes in the region.
Taliban stronghold
More than 100 raids were reported last year in the troubled tribal areas along the Afghan border.
Many militants, some of them senior, have been killed in the drone strikes, but hundreds of civilians have also died.
Correspondents say that in the past they have had the tacit approval of the Pakistani authorities, although Pakistani leaders always denied secretly supporting them.
In recent months senior Pakistani security officials have reportedly been pressing for a limit to such operations.