Afghan troops end Taliban attack on Khost police HQ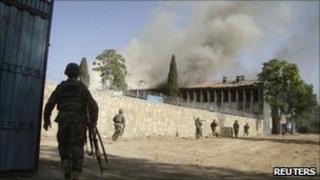 Afghan security forces have retaken control of a government building which was stormed by Taliban suicide bombers, local officials have said.
Two of the attackers were shot dead during the fighting in the eastern city of Khost, but two others managed to detonate their bomb vests.
Six other people were killed in a gun battle with the militants at the traffic police headquarters.
The Taliban later claimed responsibility for the attack.
It comes a day after a suicide bombing in Kabul's hospital killed at least six people.
'Explosives defused'
The four Taliban suicide bombers attacked the traffic police office at about 0500 (0030 GMT) on Sunday, said Gen Raz Mohammad Oryakhail, army commander for Khost province.
He said they managed to seize the second floor of the building, opening fire at police and soldiers outside.
The gun battle lasted for about eight hours, local officials said.
"All four attackers who were also wearing suicide vests have been killed," Khost provincial governor Abdul Jabar Naimi was quoted as saying by AFP news agency.
"Two of the attackers managed to detonate themselves but the other two were gunned down," he added.
Three policemen, two soldiers and a gardener working at the site also died in the fighting.
Afghan soldiers also reportedly defused more explosives brought in by the attackers.
The Taliban later said it carried out the attack, spokesman Zabiullah Mujahid was quoted as saying by the Associated Press news agency.
In Saturday's attack, a suicide bomber detonated his device in a tent in the grounds of Charsad Bestar Hospital where medical students were eating lunch.
Although the hospital treats Afghan military personnel, the victims were all civilians and medical students, police said.
The Taliban also claimed responsibility for that attack.