Mamata Banerjee sworn in as West Bengal chief minister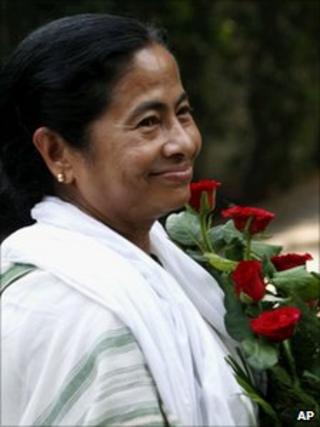 Mamata Banerjee has been sworn in as the chief minister of the Indian state of West Bengal, the first woman to hold the post.
The swearing-in ceremony was held at the governor's house in Calcutta and attended by several leaders of the outgoing communist government.
Ms Banerjee's Trinamool Congress (TMC) routed the communists, who had been in power since 1977.
She read out the oath in Bengali. Thirty-six ministers were sworn in.
Ms Banerjee is a crucial federal ally of the Congress party and the two parties fought the election together. On Thursday, she resigned as the federal railways minister in order to assume her new post.
She says the communists have failed West Bengal's 90 million people by causing its economic decline.
"We will give good governance. There will be an end to autocracy and atrocities. This is the victory of people against years of oppression," she said after winning the election last week.