Sri Lanka students fight military training scheme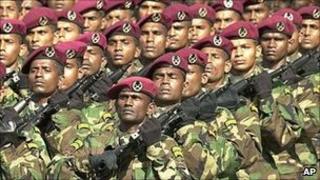 Student unions in Sri Lanka have objected to a new scheme under which university entrants must undergo three weeks of training in military camps.
The unions have petitioned their country's Supreme Court to stop the programme, which begins on Sunday.
Training will include physical drills and conflict management in a bid to increase mental and physical fitness.
The government has defended the initiative, which it says is about leadership skills.
From Sunday, every student who has recently won a university place will have to report to a specified military or police camp. There are 28 dotted around the country.
Military influence
Each prospective student, male or female, will be schooled for three weeks in disciplines including physical drill, conflict management, and "Sri Lanka's future and global changes".
The government says carefully chosen experts will increase the students' leadership skills and mental and physical fitness.
But student organisations say they don't think training in military camps is a positive thing.
An online petition is circulating, calling the measure "despotic".
One union leader said it pointed to the military's growing influence, with more and more officers heading government institutions.
The unions have appealed against the scheme in the Supreme Court, which is to give a ruling on Friday.
An ethnic Tamil student, who received a summons letter in the majority Sinhala language with no translation, expressed apprehension to BBC News.
His father said he believed it was a plan to discourage Tamil and Muslim students from taking up higher education.
But ethnic Sinhalese and Muslim students told the BBC they had no problems with going to the camp.
The Sri Lankan military often speaks of its discipline but earlier this year it admitted there had been 50,000 deserters from its forces.