Rushdie's Midnight's Children filmed in Sri Lanka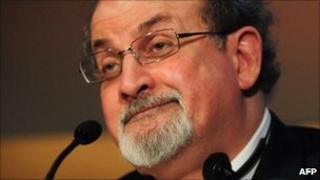 A secretly filmed adaptation of Salman Rushdie's novel Midnight's Children has finished shooting in Sri Lanka.
The production was suspended after Iran complained to Sri Lanka, but President Mahinda Rajapaksa overturned the ban.
Director Deepa Mehta said she chose the island location over India or Pakistan, where the story is set, to avoid protests from religious groups.
Mr Rushdie was the target of a fatwa from Iran for his novel The Satanic Verses.
Ms Mehta's films have angered Hindus.
Midnight's Children deals with India's pre- and post-independence history. It tells the story of Saleem Sinai, who was born on the stroke of Indian independence day in 1947.
Confidentiality agreement
The novel won the 1981 Booker prize and was chosen as the "Booker of Bookers" in 1993.
In 1997, the government of Sri Lanka chose not to allow the BBC to film an adaptation of the novel there.
For Ms Mehta's production, cast and crew members were made to sign confidentiality agreements, in a bid to avoid protests.
"We really wanted to do this film, and the price was silence," she told Canada's Globe and Mail newspaper.
"He [Rushdie] has got the Muslims. And I've got the Hindus."
But when word of the location leaked out to Iran, a complaint from Tehran persuaded the island's authorities to withdraw their approval.
Ms Mehta was forced to appeal to Mr Rajapaksa, who agreed to overturn the ban.
Portrayals of lesbianism
"The president listened to those who were for and against the film and ordered the shoot to continue," an official from Mr Rajapaksa's office told AFP news agency.
The BBC's Charles Haviland, in Colombo, says Muslim organisations on the island have expressed concern that their government allowed the novel to be filmed in Sri Lanka.
They were largely unaware that the shoot was happening, and may make an official objection, our correspondent says.
Ms Mehta, born in India but based in Canada, has been criticised by hardline Hindus who objected to her portrayals of lesbianism in her film, Fire.
Her film Water was delayed after protesters in north-east India burned down the set and threatened to rape the female cast.
Mr Rushdie lived in hiding under police protection for many years after the fatwa issued in 1989 against him by Iran's Ayatollah Khomeini.
The Satanic Verses was regarded as blasphemous by many Muslims, who protested by burning the book in public.
The film of Midnight's Children will be released next year as Winds of Change.