India: Rahul Gandhi atrocity claims 'baseless'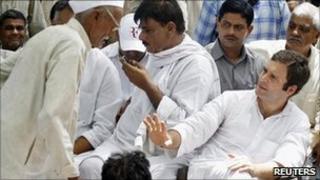 Initial forensic tests do not support claims by Indian MP Rahul Gandhi that farmers were murdered in recent land protests, a senior official says.
Uttar Pradesh cabinet secretary Shashank Shekhar said no human remains were found at the site of the unrest and called the allegations "baseless".
Mr Gandhi's accusations have ignited a bitter political row and come ahead of state elections next year.
Farmers were protesting over being forced to give up land for a new road.
The state's governing Bahujan Samajwadi Party (BSP) has consistently rejected Mr Gandhi's charges, saying they are politically motivated.
Mr Gandhi is a Congress party MP for the Amethi constituency in Uttar Pradesh.
Sonia Gandhi, his mother and Congress party president, kept up the assault on Thursday, condemning "brutalities" she said had been committed by the Uttar Pradesh authorities.
'Dead bodies'
Two policemen and two villagers are known to have died during the violent clashes between villagers and police in the Greater Noida area 10 days ago.
But whether many more were killed has been open to doubt all week.
A BBC reporter who visited the village of Bhatta-Parsaul on Tuesday found no one to support the Congress MP's claims that farmers had been killed and women raped.
Mr Gandhi, a rising political star seen by many as a future prime minister, had said there was a heap of ash in the village "with dead bodies inside".
The acquisition of land for industry is a burning issue in India as it tries to balance the demands of a growing economy with the interests of its rural poor, analysts say.
The government says it plans to introduce a new law in parliament to address the issue.