Afghanistan: 'Thirteen dead' in Jalalabad suicide blast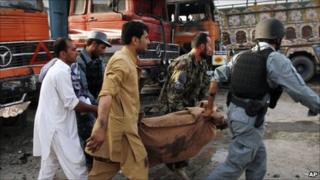 At least 13 people including civilians, police cadets and a suicide bomber have been killed in an attack in eastern Afghanistan, officials say.
A health official told the BBC the bomber drove a small car into a van carrying the cadets in Jalalabad city in the province of Nangarhar.
Earlier on Wednesday at least 12 people were killed in the north during a protest against a Nato-led raid.
The clashes with security forces in the city of Taloqan left 80 others injured.
Officials say the attack in Jalalabad took place as the van was travelling towards the city from the police academy on its outskirts.
More then 13 people - mostly civilians - were injured, officials say.
Police say the likelihood is that the bomber tracked the van as it left the academy and then carried out the attack as it entered a more congested part of the city.
Jalalabad has seen a series of attacks in recent months.
Last month, five foreign and five Afghan troops were killed in a suicide bombing at an Afghan army base near the city.
The attack was one of the deadliest in months against foreign troops. The Taliban said they carried out that attack.
Slogans and stones
Some 2,000 demonstrators, some of them armed, took part in the Taloqan protests. They looted shops and tried to attack a German army base.
Four people, two of them women, were killed in the Nato-led raid. Nato said they were insurgents. Protesters and local police say all were civilians.
Civilians deaths at the hands of Nato forces is a major cause of anger among Afghans.
An official in Taloqan said the Afghan National Army and a rapid reaction force had been deployed and the situation was now mostly under control. Reinforcements had been called in from neighbouring Kunduz province, he said.
The official said that some of the 2,000 demonstrators were armed and had destroyed public and private property.
The violence appears to have begun when protesters angered over the night-time raid by American and Afghan forces placed the bodies of those killed in the main square of Taloqan.
Chanting "Death to America" and "Death to [President] Karzai", they were confronted by police and security forces who opened fire as they headed towards the German base.