Pakistan: Dozens of militants attack security post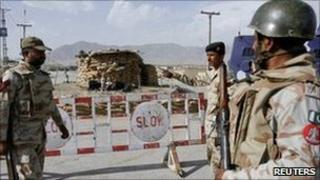 Dozens of militants attacked a security post in north-west Pakistan, killing two policemen and wounding five others, local officials say.
Up to 100 militants reportedly stormed the post near the Khyber tribal area, a stronghold for Taliban fighters.
Police said at least 12 insurgents were also killed.
In a separate attack in the south-western city of Quetta, at least five people died when gunmen opened fire on a bus carrying Shia Muslims.
No group said it carried out the attack, but officials suspect Sunni Muslim extremists.
The attack near Khyber comes a fortnight after al-Qaeda leader Osama Bin Laden was killed by US troops in a midnight raid in northern Pakistan.
But correspondents say it is more likely to be in response to the continuing military operations against militants in parts of the north-western tribal region.
"They were well-armed. They had heavy weapons, rockets, mortars everything. The fighting lasted for about four and a half hours," Ejaz Khan, a police officer in the area, told Reuters news agency.