Pakistan arrests 'senior al-Qaeda operative'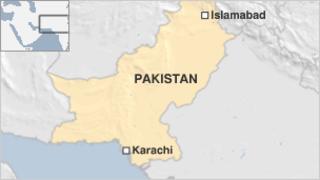 A senior Yemeni al-Qaeda operative has been arrested in the southern Pakistani city of Karachi, Pakistan's army says.
Mohammed Ali Qasim, also known as Abu Suhaib al-Makki, had been working under al-Qaeda leaders along the Pakistan-Afghanistan border, a statement said.
The army said his arrest was a "major development in unravelling the al-Qaeda network operating in the region".
Officials later told the BBC that Qasim was key courier between Osama Bin Laden and his deputy, Ayman al-Zawahiri.
The BBC's Orla Guerin in Islamabad says that since Bin Laden was found and killed by US commandos on Pakistani soil on 2 May, the country's military establishment has been under scrutiny and pressure.
The US wants proof that Pakistan's army and powerful Inter-Services Intelligence (ISI) agency are not fighting militants with one hand, while helping them with the other, our correspondent says.
Now the security agencies have an arrest to announce, hot on the heels of a visit on Monday by the senior US Senator John Kerry, she adds.
Sen Kerry said the secrecy surrounding the Bin Laden mission was crucial to its success, and stressed the need for both countries to get their relationship back on track and work together to combat terrorism.
'Planning attacks'
Few other details were provided about Qasim's arrest. The statement did not say what ranking he had in al-Qaeda, nor when he was detained.
However, security officials told the BBC's Syed Shoaib Hasan that Qasim was arrested in Karachi's central Gulshan-e-Iqbal district on 4 May.
He had a satellite phone and a tracking device, which they said had yielded new information about al-Qaeda's activities in the region.
Qasim moved around Pakistan to avoid detection, living in Abbottabad - where Bin Laden was found - Faisalabad, Peshawar and Karachi.
He was involved in planning attacks on Saudi interests in Pakistan, and had ordered retaliatory strikes following Bin Laden's death, the officials added. It is not known if these included the killing on Monday of Hassan al-Khatani, a security official at the Saudi consulate in Karachi.
Another security official told Reuters news agency that Qasim was between 35 and 40 years old and had been living in Karachi with his three children and wife "for some time".
"He gave some information about movements of some people," he said. "We are evaluating that information and planning actions."
Qasim is believed to have become a senior al-Qaeda operational commander following the killing in a drone strike in May 2010 of Mustafa Abu Yazid, also known as Said al-Masri.
Fluent in Pashtu and Urdu, he was allegedly one of the main couriers between Bin Laden and Zawahiri, and helped al-Qaeda leaders travel between Afghanistan and Pakistan. He is also said to have been an important recruiter, which led to him travelling abroad frequently.
Qasim was allegedly close to Anwar al-Awlaki, the radical American Muslim cleric of Yemeni descent who is alleged to be a leader of al-Qaeda in the Arabian Peninsula, and Ramzi Bin al-Shibh, a senior al-Qaeda operative who was arrested in Karachi in 2002.
A US official told the Associated Press news agency that he was a mid-level al-Qaeda operative. He does not appear on any US wanted lists.