Pakistan: Militants killed in attack on Quetta troops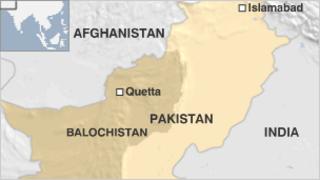 Pakistani security forces have killed five militants during a clash in the western city of Quetta, officials say.
The militants, reportedly armed with grenades and suicide vests, attacked a checkpost but were all shot dead. The group included three women.
There have been several attacks by militant groups across Pakistan since the death of Osama Bin Laden on 2 May.
Pakistan's Taliban, who are close to al-Qaeda, have vowed to avenge his killing by US special forces.
'Uzbek or Chechen'
Last week, Taliban suicide bombers killed at least 80 people at a paramilitary academy in the north-western town of Charsadda.
In the latest incident, the five militants threw explosive devices and opened fire on troops in the Kharotabad area of Quetta, capital of Balochistan province, police said.
"From the appearance of the attackers, it looks they were either Uzbek or Chechens," a senior security official told Reuters news agency.
"They had hand grenades and bombs strapped to their bodies."
Balochistan has been at the centre of a decade-long separatist insurgency, waged by tribes seeking greater autonomy and a greater share of the region's oil wealth.