India West Bengal state hit by post-election violence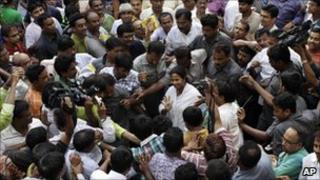 At least eight people have been killed in violence in the Indian state of West Bengal following the communists' electoral defeat last week, police say.
The most recent deaths were on Monday - most of those who have been killed were communist activists, police say.
Mobs have been ransacking offices of the defeated communists since results were declared on Friday, police say.
The Trinamool Congress routed the communists, who had been in power without a break since 1977.
The authorities say they are worried the unrest may spread to other parts of the state.
On Monday, police seized hundreds of illegally held arms and "crudely-made" bombs in southern districts.
The BBC's Amitabha Bhattasali in the state capital, Calcutta, says that the violence has in part been made worse because there is no civil administration at present.
Trinamool Congress (TMC) leader Mamata Banerjee is to be sworn in on 20 May.
Our correspondent says that it has been left to the state governor to direct the overall response of the authorities to the violence.
Police say most of the casualties were communist activists killed in the Burdwan, Bankura and West Midnapore areas since Friday.
But they say that at least three TMC supporters have also been killed in attacks blamed on the communists. Hundreds of supporters of both parties have been arrested.