Afghanistan: 'Policeman' kills two Nato soldiers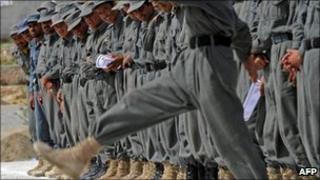 Two Nato soldiers have been shot dead by a man dressed as a policeman in the country's south, officials say.
The shooting was the latest in a spate of incidents involving gunmen in security uniforms targeting Nato forces.
The deadliest such attack was last month when a veteran Afghan military pilot killed eight US soldiers and a civilian contractor at Kabul airport.
The Taliban said the gunman was working for them.
Nato is due to begin transferring power to local Afghan forces in July.
Gunman in hospital
The Nato soldiers were inside a police compound in Helmand where they had been mentoring an Afghan National Civil Order brigade when they were gunned down, Nato said in a statement.
Other soldiers returned fire and the gunman was wounded and and taken to hospital. The names and nationalities of the victims were not released.
"While this is a serious incident, the actions of this individual do not reflect the overall actions of our Afghan partners," said US Marine Corps Maj Gen James Laster, International Security Assistance Force Joint Command Deputy Chief of Staff Joint Operations.
"We remain committed to our partners and to our mission here."
Nato's exit strategy for Afghanistan involves progressively handing over to the local security forces.
Seven provinces and cities were named in the first tranche of areas to be transferred to local control in July.
There are now more than 260,000 Afghan security personnel, of whom more than 160,000 were trained over the past year.
The US is investing $11bn (£6.82bn) a year in the training mission.
But with so many new recruits being taken on, there are questions over the vetting process, the extent to which the Taliban may have infiltrated those forces, and their loyalty and reliability, correspondents say.