India: Mamata Banerjee routs communists in West Bengal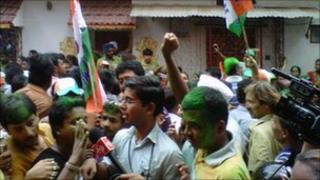 The world's longest-serving democratically-elected communist government has lost elections in the Indian state of West Bengal.
The communists - in power since 1977 but now blamed for the state's economic decline - have conceded defeat.
Mamata Banerjee's Trinamool Congress (TMC) is on course to win a landslide.
In Tamil Nadu, a key ally of the governing Congress party has also been defeated following allegations of corruption which have rocked India.
Vote counting is also taking place in two other states and the union territory of Pondicherry.
The communists are facing a stiff challenge in the southern state of Kerala. In Assam in the north-east the Congress party looks set to be returned with a large majority.
Correspondents say the results again prove that the focus has shifted to regional parties in Indian politics. The elections also provide a distraction from corruption scandals which have dogged the government for months.
Although Congress will be pleased its ally has done so well in West Bengal, results from the south may give the party pause for thought ahead of general elections due by 2014.
In Tamil Nadu support for its ally, the Dravida Munnetra Kazhagam (DMK), has slumped. In Kerala, Congress, which won 16 of 20 seats in the last general election, has also seen its vote share significantly eroded.
Correspondents also point out that the mercurial Ms Banerjee will negotiate from a position of strength in future alliance talks, and her participation cannot be taken for granted.
'End to autocracy'
Ms Banerjee is a crucial federal ally of the Congress party and the two parties fought the election together.
She says the communists have failed West Bengal's 90 million people by causing its economic decline.
"This is a victory of democracy, victory of 'Maa, Maati Manush' [mother, land and people]," Ms Banerjee told her supporters after early trends gave her party a massive majority.
"We will give good governance. There will be an end to autocracy and atrocities. This is the victory of people against years of oppression," she said.
The BBC's Soutik Biswas in Calcutta says a large number of supporters have gathered outside her house, waving TMC flags and chanting victory slogans.
By early afternoon India time, and with most votes counted, the scale of the communist defeat was clear and outgoing Chief Minister Buddhadeb Bhattacharya tendered his resignation to the state governor.
Provisional results on the Election Commission website show the left-wing alliance winning only about a quarter of the 235 seats they took in 2006.
Mr Bhattachary lost his seat in the rout, as did most other leaders of the Communist Party of India (Marxist).
'Anti-incumbency'
In Tamil Nadu, the All India Anna Dravida Munnetra Kazhagam (AIADMK) opposition party, led by former film actress J Jayalalitha, has also won a landslide. Ms Jayalalitha's supporters have already begun distributing sweets and dancing in the state capital, Madras (Chennai).
Her rival, DMK party leader Karunanidhi, has tendered his resignation.
Correspondents say the DMK, a federal ally of Congress, is blamed by many for power cuts and price rises in Tamil Nadu.
The anti-incumbency factor is also thought to have played a role in its defeat, as well as accusations that the state government failed to speak up for Sri Lankan Tamils.
In Assam, Congress seems to be heading back to power with a large majority, while Kerala appears too close to call.
More than 140 million people were eligible to vote in the assembly elections held over April and May.