Kashmir Valley tunes in to optimism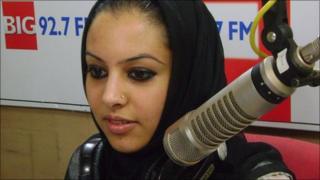 If you are travelling by taxi through Srinagar, the summer capital of Indian-administered Kashmir, chances are you will be listening to an upbeat radio chat show hosted by one of two young presenters transforming the mood of the troubled region.
Wafa Vakil and Sardar Nasir Ali Khan are the new voices of the Kashmir Valley, popular radio jockeys (RJs) at the region's only private FM station 92.7 Big FM.
A large part of their appeal lies in their ability to effortlessly draw in listeners to a world of happy chit-chat and Bollywood hit music.
At 0800, Wafa - who goes by the name RJ Haya on radio - is in the studio, talking about the beautiful Srinagar weather and cajoling city-dwellers to rise and shine, her Urdu heavily peppered with English words and sentences.
"Salam Walequm, I'm RJ Haya and I am here, bright and early, on my show the Big Nun Chai [Kashmir's salt tea]," she starts. A few words later, the music takes over and she trails off.
For the next four hours of her breakfast show, she discusses Bollywood gossip, music, songs which are doing well, and mothers - because it was Mother's Day.
Kashmir has been in the grip of an armed uprising against Indian rule since 1989 and although recent years have been relatively peaceful, for the past three summers the valley has been rocked by violent protests during which the Indian government brutally suppressed stone-throwing demonstrators.
Private FM stations in India are not allowed to broadcast news or current affairs, but RJs everywhere try to get a flavour of current events by picking up the day's big news stories and turning them into talking points.
The challenge in Kashmir is particularly tricky. Twenty-six-year-old RJ Nasir says their role is partly to soothe the nerves of the region: "You know how Kashmir is? People here are really stressed out. So entertainment and music are a must for them. "
Fan mail
The response has been "amazing" says RJ Haya, who has been with the station since it began broadcasting five years ago and has thousands of fans.
"People in Kashmir are educated and it's not difficult to communicate with them," she says.
Her show is heard in almost all parts of the valley and, she says, even in parts of Pakistan.
"An Indian army officer heard me on the border and got in touch. People who have heard my show in Pakistan have also sent me mail. Some of them have even joined my fan page on Facebook."
RJ Haya gets calls from listeners all around the region wanting to talk to her and discuss their problems.
"People talk about their personal lives. They have problems and they tell me about them. I try to help them out in whatever way I can. They talk about the valley, the civic problems - we have bad roads and bad drainage systems."
The show has been able to get results on the issues it talks about. The popularity of the Big Nun Chai has meant RJ Haya is able to get ministers and bureaucrats to come on her show.
"We do it in the summer since Srinagar is the summer capital of the state and all ministers and bureaucrats are in the city. I can say that by the grace of God, most of the problems people have raised on my show have been solved."
Tricky affair
Nasir hosts the afternoon show on Big FM and he emphasises that "in a small place like Kashmir, we are not just RJs. People follow us. What we do or say is keenly watched. And sometimes, we are criticised too."
Nasir grew up in the shadow of militancy.
"The Kashmir insurgency started when I was a child," he says. "I had a very sheltered life, but I was not disconnected with reality."
The past three summers have been a tightrope walk for him.
"We don't talk about violence. Our job is to take people away from their troubles. We also felt the people's pains, but we kept away from it," he adds.
RJ Haya says that turmoil is always depressing.
"Radio is about people, it's for the people. So we go by their mood. If the conditions are volatile outside, we play slow, soft music, we even play devotional music.
"People are stuck at home and have nothing to do, there's no other means of entertainment, radio is probably the only thing they can connect to.
But there have been times when the RJs did get involved in the story.
"One day last summer a man called me up saying a family member was injured and needed a specific blood group. So we announced appeals... so people across the valley could donate blood and help those injured."
It is precisely the ability of RJs to connect with the people that is winning them listeners and fans - although no audience survey has been done to find out how many people listen to Big FM.
"I listen to the FM station while driving and I really enjoy it. I like the music they play, it's nice and contemporary. And I like the way they talk," says taxi-driver Sami Ullah.
When the radio station was launched in 2006, within the first three hours it received 600 text messages. Today, its popular RJs are followed by thousands of people on Facebook and Twitter too.