Was Lumley campaign good for Gurkhas?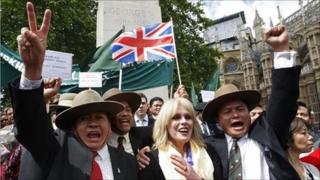 Two years ago actress Joanna Lumley helped Gurkhas who retired before 1997 win the right to settle in the UK. Gurkha welfare groups and the Home office estimate that about 8,000 former soldiers and their families have since moved to Britain. But many have struggled in the UK, as the BBC's Alastair Lawson reports.
Nowhere can the influx of Gurkhas into Britain be more clearly seen than in the British military town of Aldershot.
The local authority estimates that one in 10 of the town's 90,000 residents comes from Nepal - many as a direct result of the campaign Ms Lumley helped lead.
If the British Gurkha Welfare Society (BGWS) is to be believed, Joanna Lumley's campaign has been a disaster, resulting in thousands of elderly and infirm Gurkha pensioners - most unable to speak English - living in poor accommodation and relying on state handouts to survive.
The actress herself has broken a strictly-observed silence over criticisms of her campaign to release a statement to the BBC.
"Our campaign had moral right on our side," the statement said, "and the vast majority of the British public wanted the government to amend the law to allow Gurkhas to settle in the UK.
"Debts of honour are not easy to translate or quantify into pounds and pence, and some MPs have criticised our campaign for not considering the potential financial impact on the exchequer. Yet the government did consider this at the time, and decided that our campaign arguments vanquished the issues of pure cost."
Ms Lumley's supporters insist that her campaign successfully reversed decades of discrimination against older Gurkhas who fought for the British army yet were denied the right to retire in the UK.
But the BGWS argues that it would be far more cost-effective if retired Gurkhas were paid better pensions and encouraged to stay in Nepal rather than pursue the more expensive option of emigrating to the UK to take advantage of state pensions, housing benefit and free health care.
The organisation says that from the outset its campaign has been different from that waged by Ms Lumley and her supporters - it argued that fair pensions and the right of former Gurkhas to retire in the UK were equally important, whereas the emphasis of her campaign was on resettlement rights.
About 25,000 Gurkhas who retired before 1997 still get only about a third of the amount of pension received by their British and Commonwealth former comrades, despite winning the right to live in Britain.
In 2007, the pension rules were changed to give Gurkha soldiers who retired after 1997 equal pension rights with other UK service personnel.
The Ministry of Defence has argued that pre-1997 pensions are tailored for Gurkhas retiring in Nepal, where it is cheaper to live and most people have no pension at all.
'Terrible quality of life'
In May 2009 the British government announced that all Gurkhas who retired before 1997 with four or more years service in the British army would be allowed to settle in the UK along with their wives and children.
Joanna Lumley had argued that it was only fair to give them the same retirement rights as Gurkhas who retired after 1997 - who are automatically granted leave to remain in the UK.
BGWS General Secretary Chhatra Rai says that between 60% and 70% of those who have arrived in the UK as a result of her campaign are not eligible for a Gurkha military pension and will instead rely on UK state pensions and housing benefits to survive.
He argues that each entrant costs the state on average £600-700 ($980-$1,150) in benefits a month. Equalising pensions would cost a fraction of what it does to settle retired Gurkhas in the UK, the BGWS estimates.
"The quality of life for many of these people is terrible," Mr Rai said. "Many cannot speak English and because they are old and frail they often find it difficult to get out and mix with the community."
Much of Mr Rai's concern about the "massive influx" of Gurkha veterans and their families into the Aldershot area is echoed by Gerald Howarth, the MP who represents the local authority, Rushmoor, where many have settled.
He argues that their arrival has resulted in a "very real additional financial burden" on Rushmoor and its services - including council housing, doctors' practices and schools.
"Action needs to be taken to limit any further numbers coming to Rushmoor," Mr Howarth told the BBC.
"Given the respect and affection in which Gurkhas are held across the UK, I have proposed to the prime minister that other local authorities should be encouraged to extend the offer of assistance to would-be migrants in their areas."
Mr Howarth - who in the past has been highly critical of Ms Lumley's campaign - said that it was important that those Gurkhas thinking of coming to retire in the UK "are painted a very clear picture" of what they can expect when they arrive.
"I think it extremely unfair on them if they are not given that clear picture, especially when it comes to the lack of social housing and the lack of jobs for those who do not speak English."
'Not an option'
But Gurkha Justice Campaign (GJC) joint leader Martin Howe says that Ms Lumley's campaign was and continues to be "a fantastic success story".
The GJC was at the forefront of the campaign two years ago to allow all retired Gurkhas the right to live in the UK.
Spearheading that campaign was former Gurkha Ragprasad Purja, who celebrated victory with Ms Lumley in 2009.
"We died for this country and we are entitled to come and live here and claim benefits for the sacrifices we have made," he told the BBC.
"We will forever be grateful to Joanna Lumley for what she has done."
Mr Howe acknowledges that "there will always be some retired Gurkhas who have slipped through the net and found life in the UK to be a struggle".
"But it's very important that after serving this country they and their families now have the right to take advantage of its health care and education facilities," he said.
Mr Howe said that GJC figures showed that 3,000 retired Gurkhas and 5,000 of their dependants had come to the UK as a result of Ms Lumley's campaign.
He said that giving retired Gurkhas better pensions "was not an option" because the British defence ministry "had fought tooth and nail" not to allow this in several court cases over the past decade.
He also dismissed predictions that thousands more Gurkha pensioners would descend on the UK.
"Two years ago there were government predictions that as many as 150,000 could come to Britain - but then as now such estimates have proved to be inaccurate and blatant scaremongering."
Joanna Lumley's statement reinforces her belief that the campaign has been a success.
"It was a wonderful moment in our democratic history, where a public desire for justice turned into a massive campaign that changed government policy in the face of strong resistance from the Ministry of Defence."