Pakistan: US missiles 'kill seven' near Afghan border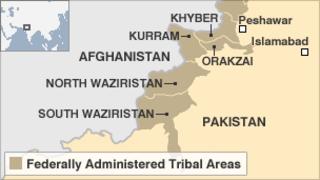 At least seven suspected militants have been killed in a US drone strike in the Pakistani tribal area of North Waziristan, local officials say.
Officials told the AFP news agency that two missiles were fired on a militants' vehicle in the Datta Khel area.
The region is an al-Qaeda and Taliban stronghold and regularly hit by drones.
It is the third such attack reported in the tribal areas near the Afghan border since US commandos killed Osama Bin Laden in the town of Abbottabad.
On 6 May, at least 12 people were killed in a drone strike in North Waziristan. A similar strike on 10 May was reported to have killed four people in neighbouring South Waziristan.
Tensions
Correspondents say the latest strike is evidence that the US has no plans to reduce the number of drone attacks, which cause great anger in Pakistan.
Pakistani sensitivities have increased in recent days, with many people saying the country's sovereignty was violated by the US assault on a house in Abbottabad in which Osama Bin Laden was killed on 2 May.
The raid has put further pressure on an already strained relationship between the US and Pakistani governments.
Washington does not routinely confirm it conducts drone operations in Pakistan.
But analysts say only US forces have the capacity to deploy such aircraft. US drone attacks have escalated in the region since President Barack Obama took office. More than 100 raids were reported last year.
Many militants, some of them senior, have been killed in the drone raids, but hundreds of civilians have also died.
Correspondents say that in the past they have had the tacit approval of the Pakistani authorities, although Pakistani leaders always denied secretly supporting them.
In recent months senior Pakistani security officials have reportedly been pressing for a limit to such operations.