Indian PM Manmohan Singh pledges $500m to Afghanistan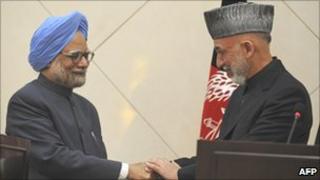 Indian Prime Minister Manmohan Singh has pledged a further $500m to Afghanistan over the next six years.
Mr Singh made the announcement in Kabul. The money is in addition to $1.5bn already promised.
The Indian prime minister also said he strongly backs the Afghan government's efforts to reconcile with the Taliban.
His visit comes just over a week after al-Qaeda chief Osama Bin Laden was killed by US commandos in the Pakistani town of Abbottabad.
India and Afghanistan share concerns over militant networks in Pakistan.
Correspondents say India's promise of more money is likely to raise Pakistani fears about Delhi's influence in Afghanistan. India is the biggest regional donor to the country.
"India's [total] development assistance commitment is approximately $1.5bn, but there are still gaps," Mr Singh told a joint press conference with President Hamid Karzai.
"We now have a better idea of where we can do more... We have made a fresh commitment of $500m over the next few years."
The money will be spent on agriculture, schools and roads. India is already building the new parliament in Kabul - at a cost of $19m.
'Democratic' Afghanistan
Indian diplomats say that any rapid reduction of the US presence in Afghanistan would cause them concern, because the country could become dominated by a Taliban-influenced government friendly towards its arch-rival Pakistan.
The two leaders held discussions on Thursday about regional stability, counter-terrorism and the India-Afghanistan strategic partnership, built on what correspondents say is largely a shared mistrust of Pakistan.
The BBC's Quentin Sommerville says President Karzai's desire for talks with the Taliban has not in the past sat easy with India.
But standing by President Karzai, Manmohan Singh said he now strongly supported those discussions.
"We wish to see a peaceful, stable, democratic, pluralistic Afghanistan. We strongly support Afghan people's quest at peace and reconciliation," Mr Singh said.
"India supports firmly the unity, integrity and prosperity of Afghanistan."
Analysts say that India may now accept that the Taliban has to be part of any political resolution to the war in Afghanistan. But it also dearly does not want its arch-rival Pakistan leading any reconciliation process, our correspondent adds.
Assembly address
The Indian PM was making his first visit to Kabul in six years. Correspondents say that with Pakistan's international reputation damaged after the killing of Osama Bin Laden, Delhi may see an opportunity to nudge Kabul closer to its side.
Both Mr Singh and Mr Karzai feel vindicated that Bin Laden was discovered in Pakistan as they have long accused Islamabad of upsetting regional stability by harbouring militants.
The growing closeness between the two countries has infuriated Islamabad, which also wants to increase its influence in Afghanistan.
The BBC's Quentin Sommerville in Kabul says that President Karzai must strike a balance in dealing with his demanding neighbours - he needs Pakistan's help in reconciling with the Taliban although that is opposed by India.
Mr Singh will address a joint session of parliament on Friday, in what correspondents say is a rare honour.