Rahul Gandhi arrested for joining farmers' land protest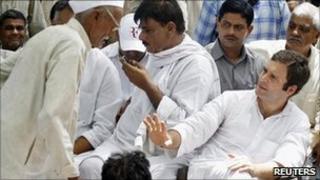 Indian MP Rahul Gandhi was briefly detained on Wednesday night after joining a farmers' protest in the state of Uttar Pradesh.
Farmers there have held days of violent protests, saying they have been forced from their land for a highway.
Two policemen and a farmer were killed last weekend during protests.
Mr Gandhi, son of ruling Congress Party president Sonia Gandhi, is seen by many as a rising political star and a future prime minister.
Rahul Gandhi comes from a family of prime ministers. His father Rajiv Gandhi, grandmother Indira Gandhi and great grandfather Jawaharlal Nehru have all served as prime ministers of India.
The demonstrations in Uttar Pradesh's Greater Noida area are the latest in a series of protests in the country over attempts to acquire land for industry or infrastructure development.
Correspondents say the issue of land acquisition is highly sensitive as about 65% of India's population is dependent on farming.
According to law, government can requisition any private land for a "public purpose".
'Ashamed'
The Uttar Pradesh government has acquired the land to build a highway, which will link Delhi to the Taj Mahal city of Agra.
Mr Gandhi was taken into "preventative custody" after he sat all day with angry farmers in villages in Uttar Pradesh near the capital, Delhi.
"I feel ashamed to call myself Indian after seeing what has happened here. The [state] government here has unleashed atrocities on its own people," he told the farmers.
The state government, led by Chief Minister Mayawati of the regional Bahujan Samaj Party, says the farmers have been given generous compensation. But farmers say that compensation has been inadequate.
Campaigners say that in recent years there have been instances where the government has acquired land for the benefit of private corporations, commercial interests and profits.
Authorities across India have acquired large tracts of land to set up special economic zones (SEZs) which they say will generate hundreds of thousands of jobs and bring in new earnings.