Nepal's 'Super Sherpa' breaks his own Everest record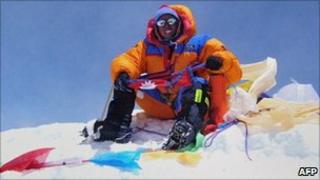 A 51-year-old Nepalese climber known as the "Super Sherpa" has broken his own record by scaling Mount Everest for the 21st time, officials say.
Apa Sherpa reached the summit early on Wednesday after climbing all night in conditions expedition organisers described as "perfect."
Mr Sherpa is leading an environmental expedition that plans to carry down tonnes of garbage left on the mountain.
He also hopes to raise awareness of the impact of climate change.
"If my ascent promotes the cause and helps to protect the mountain, I am always ready to climb," he told the AFP news agency before his latest expedition.
Mr Sherpa grew up in the foothills of Everest and began carrying equipment and supplies for trekkers and mountaineers from the age of 12.
He first climbed Everest in 1989 and has repeated the feat almost annually since then.
His team plans to clear 4,000kg (8,800lb) of rubbish from the lower part of the mountain and another 1,000kg (2,200lb) from near the summit.
Mr Sherpa - who lives in the US - says that he is "very concerned" about the degradation he has seen on Himalayan peaks because of global warming and other issues.
He said that when he first started climbing Everest, the trail to the summit was covered with ice and snow. But it is now dotted with bare rocks.
The melting ice has also exposed deep crevasses, making expeditions more dangerous.
On Monday, former Nepalese Foreign Minister Shailendra Kumar Upadhyay died while trying to become the oldest person to climb Everest.