India's Supreme Court rejects harsher Bhopal charges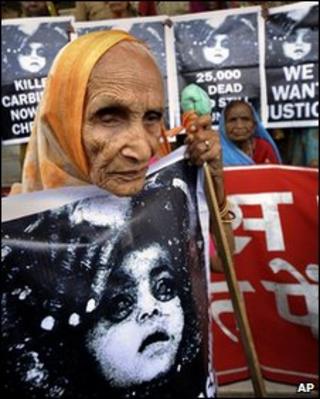 India's Supreme Court has rejected a request to re-open the 1984 Bhopal gas disaster case in order to impose harsher sentences on the accused.
Prosecutors made the appeal following last June's verdict handing down brief jail sentences to seven former managers at the Union Carbide plant.
The accused were prosecuted for negligence in relation to the disaster.
The Indian government says some 3,500 people died within days of the leak - with more than 15,000 dying since then.
Campaigners put the death toll as high as 25,000 and say the effects of the leak continue to this day.
Survivors say that are extremely disappointed with the court's ruling - a BBC correspondent in Delhi says it has come as a big blow to them.
In its ruling on Wednesday, the Supreme Court said that the "petition is based on a plea that is wrong and fallacious".
The judges said that "no satisfactory explanation" had been given for filing the petition after so long.
Union Carbide officials had initially been charged with "culpable homicide", but a 1996 court ruling diluted the charges.
Within minutes of the ruling being made, survivors reacted with dismay.
"The verdict comes as a shock for all the victims. We expected the court to review the case, understand our problems and deliver justice but sadly this has not happened," the AFP news agency quoted Balkrishna Namdeo, an activist of the Bhopal Gas Victims' Association in Bhopal, as saying.
"Every victim of the Bhopal gas leak is upset and angry today and we will express our anger across India," he said.
Last June's court order, which handed down two-year jail sentences to former plant managers, led to a public outrage in India.
In August, prosecutors challenged the leniency of the sentences and sought restoration of stringent charges of "culpable homicide not amounting to murder" against the accused.
The convictions were the first since the disaster at the Union Carbide plant - considered to be the world's worst industrial accident.
In December, the government also filed a petition in the Supreme Court seeking to more than double to $1.1bn (£700m) the compensation paid by the US chemical company for the disaster.
The attorney general's office filed a case in the court to increase the $470m settlement reached in 1989.
Many victims and campaigners say the compensation is grossly inadequate.
Dow Chemicals, which bought Union Carbide in 1999, has said in the past that the $470m settlement was fair and final.