Bangladesh kicks off UN road safety decade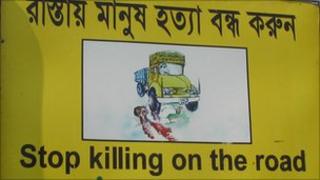 Bangladesh will join the first United Nations Decade of Action for Road safety, along with dozens of countries.
The programme will be marked by special events in Bangladesh, which has one of the most high-risk roads in the world.
According to official statistics, every year about 10,000 people are killed in road accidents in the country.
The campaign seeks to prevent millions of traffic deaths and injuries. It is estimated that road accidents will kill 1.9 million people annually by 2020.
Road crashes kill more people than Malaria and by the end of the decade it is projected they will become a bigger killer than HIV-Aids.
So, the UN has launched a campaign to stabilise and then reduce road fatalities and injuries over the course of the decade.
The problem is acute in Bangladesh, which has one of the highest fatality rates for road accidents in the world.
The highway from the capital, Dhaka, to the north-eastern city of Sylhet is considered to be one of the most dangerous roads for drivers.
With a rate of 0.6 deaths per km, the fatality rate on the N2 highway is 10 times higher than Britain's most persistently high risk roads.
The UN supported programme wants to create awareness among people about road safety and also help developing countries to attract investment from multilateral institutions to improve their accident-prone highways.
Priorities also include awareness programmes to influence the behaviour of road users and improving care and rehabilitation following accidents.