Fresh violence in Afghanistan after Kandahar attack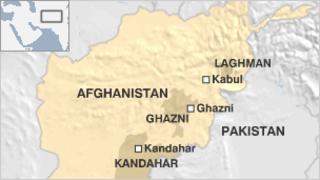 At least six Afghan police officers have been killed in an ambush in Ghazni province, officials have told the BBC.
The attack took place in Deh Yak district, several kilometres from the district headquarters.
Police officials said a group of police was hit by a roadside bomb and then came under gunfire.
In a separate incident in the eastern province of Laghman, a suicide bomber on a motorcycle blew himself up near a district governor's compound.
A spokesman for the Nato-led International Security Assistance Force (Isaf) in Kabul told the BBC that initial reports suggested there were Isaf casualties in the Laghman attack.
Local officials and police say that the target of the attack - which killed three civilians and wounded seven people including two policemen - was US forces.
'Ambushed'
Both attacks come a day after government forces beat back an attempt by scores of militants to seize parts of Kandahar city, to the south of Ghazni.
The police chief of Ghazni province, Dilawar Zahid, told the BBC's Bilal Sarwary in Kabul that six police officers were killed and four wounded in Monday morning's attack in Deh Yak district.
Security officials in the district said eight police were killed and four injured.
"The group of our police were leaving for the provincial capital of Ghazni," one of the security officials told the BBC.
"It was a shock because the attack took place so close to the district headquarters. They ambushed our forces. There was a roadside bomb followed by a firefight."
The district, just eight kilometres (five miles) south-east of the provincial capital, Ghazni city, was considered one of the safest in the province.
In Kandahar, government forces took two days to fight off co-ordinated assaults with suicide bombers and rocket-propelled grenades on government buildings.
The provincial governor, Tooryalai Wesa, said 11 insurgents were killed and seven suicide bombers blew themselves up.
Two soldiers and three civilians died, and dozens more were wounded.
The attack came less than two weeks after nearly 500 prisoners, among them Taliban field commanders, escaped from Kandahar's main prison.
Afghan officials say the complex nature of the Taliban assault was due to the presence of some of the escapees, who are experienced fighters.