Air India resumes normal services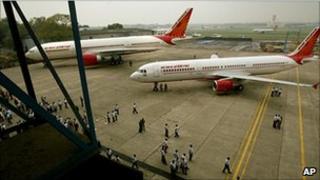 India's state-run airline has begun operating half of its domestic flights, after 10 days of strikes by pilots, officials say.
Air India says it expects to resume full operations on Tuesday.
About 660 pilots went on strike demanding fairer pay and better conditions.
The strike was called off on Friday night following negotiations between the pilots and officials from India's aviation ministry.
The airline agreed to reinstate some of the striking pilots who had previously been dismissed, and to restore working relations with the pilots' union.
Air India management earlier said it no longer recognised the Indian Commercial Pilots' Association (PICA) - to which many of the striking pilots belonged.
"The passenger load is gradually picking up after we opened bookings on Saturday," an airline spokesman said.
The striking pilots said they were being victimised. They claim their colleagues on international routes earn up to 200,000 rupees ($4,500; £2748) more a month than they do.
Indian Airlines merged with Air India in 2007 and since then its pilots have frequently complained about poor employment conditions.