Afghanistan: Kandahar Taliban attackers 'defeated'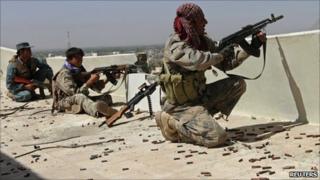 Government forces have recaptured areas of the Afghan city of Kandahar seized by scores of militants after a two-day battle, the provincial governor says.
Tooryalai Wesa said 11 insurgents had been killed and seven suicide bombers had blown themselves up.
Two soldiers and three civilians have died, and dozens more were wounded.
Insurgents launched co-ordinated assaults with suicide bombers and rocket-propelled grenades on government buildings in Kandahar on Saturday.
Stiff resistance
In one area of the city, gunmen in a four-storey shopping centre exchanged fire with security forces in the governor's compound.
On Sunday, gunfire and explosions continued as Afghan forces - aided by Nato-led foreign troops - sought to mop up the Taliban's resistance.
Authorities say they have destroyed 10 vehicles packed with explosives left behind by the insurgents.
Two fighters holed up in the Kandahar Hotel were killed after hours of stiff resistance.
Afghan intelligence officials say they are looking for a third attacker.
Nato say up to 60 militants took part in the attack. The Taliban say it was 100.
Whatever the number, the BBC's Bilal Sarwary in Kabul says, the raid has paralysed Kandahar, the commercial hub of southern Afghanistan.
The streets have been empty and shops shut, with civilians too afraid to go out.
Afghan police said earlier that some of the Taliban fighters were Pakistanis.
Prison break
The attack comes less than two weeks after nearly 500 prisoners, among them Taliban field commanders, escaped from Kandahar's main prison.
Afghan officials say the complex nature of the Taliban assault was due to the presence of these experienced fighters.
The Taliban deny the attacks are a response to the death of Osama Bin Laden, saying they had been planned for some time.
The group announced the start of their annual spring offensive last week.
Nato spokesman Maj Gen James Laster described the Kandahar raid as a "spring offensive spectacular attack which was thwarted".
Birthplace of the Taliban and a hotbed of the insurgency, Kandahar has been the focus of military operations by government and international forces over the past year.