Afghanistan: Fierce fighting follows Kandahar attack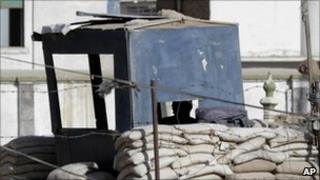 Intense fighting has taken place in Afghanistan's second city of Kandahar amid co-ordinated militant attacks, including at least six suicide bombs.
The Taliban said it was behind the triple assault on the provincial governor's office, the Afghan spy agency and a police station.
At least two people were killed and 23 injured in the fighting, which spread panic on the streets.
One official linked the attack to the recent escape of hundreds of prisoners.
Gunmen in a four-storey shopping centre exchanged fire with security forces in a compound belonging to Governor Tooryalai Wesa.
"This clearly was intended to be a spring offensive spectacular attack which was thwarted by Afghan National Security Forces," said US Marine Maj-Gen James Laster, a spokesman for the international coalition in Afghanistan.
Firing continued until late on Saturday, but officials told Reuters news agency that this was mainly from clearing operations.
Paralysed city
Earlier, a spokesman for the Afghan spy agency, the National Directorate of Security, told the BBC the attack on the governor's compound was now over and two Taliban fighters had died.
He added: "But they are still attacking my office from a nearby Kandahar hotel. Fighting is still intense.
"They are using heavy machine guns, rocket-propelled grenades, hand grenades and AKs [AK-47s].
"The Taliban could use the cover of darkness to launch more attacks.
"They planned this well in advance. They wanted to take control of government offices and take senior Afghan officials hostage.''
There were at least seven explosions, paralysing the city, says the BBC's Bilal Sarwary in Kabul.
At least two suicide bombers who tried to attack police were shot dead before they could reach their targets.
Witnesses described civilians running through the streets for safety and shopkeepers closing their stores in case of looting.
Military helicopters were hovering above the city.
"Forget human, even the birds have fled the city," a shopkeeper in Kandahar's Chowke Madad district told our correspondent.
Two schools and a municipal traffic office were also reported to have been attacked.
'One by one'
Amid the fighting, Governor Wesa appeared on private Shamshad TV to say: ''I am alive and well, sitting with my friends here in my office.
"No matter how many fighters the Taliban have got in the city, they will be killed one by one.''
Afghan President Hamid Karzai said the militants were attacking civilians to hide their defeat, caused by the killing of Osama Bin Laden.
But Taliban spokesman Yusuf Ahmadi said the Kandahar attacks had been planned for some time as part of the insurgents' annual "spring offensive", announced last week, and had nothing to do with Bin Laden's death.
Kandahar, the birthplace of the Taliban and a hotbed of the insurgency, has been the focus of military operations by the Western-backed government over the past year.
A senior Kandahar police official blamed the attacks on last month's escape by about 500 prisoners, many of them Taliban, from the main jail in the city.
The official, who did not want to be named, told our correspondent: "If 106 Taliban field commanders - some of them the very backbone of the insurgency - had not escaped from the prison, attacks like this would have not occurred."
Also last month, Kandahar's police chief was killed by an attacker in a police uniform, while in January the provincial governor's deputy was killed.