Pakistan: US drone 'kills 12' in North Waziristan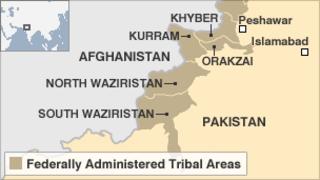 At least 12 people have been killed in a US drone strike in the troubled Pakistani tribal region of North Waziristan, officials have said.
It is the first such attack since US commandos killed al-Qaeda leader Osama Bin Laden in a fortified compound in the north-western town of Abbottabad.
The raid on Monday heightened tensions between Islamabad and Washington.
Rallies are expected in some Pakistani cities against what has been seen as US infringement of Pakistan's sovereignty.
Correspondents say that many are also critical of the Pakistani government for allowing the raid to take place. Pakistani officials insist they were not told about it in advance.
Al-Qaeda haven
The US does not routinely confirm it conducts drone operations in Pakistan.
But analysts say only US forces have the capacity to deploy such aircraft. US drone attacks have escalated in the region since President Barack Obama took office. More than 100 raids were reported last year.
The tribal areas along the Afghan border are considered to be a haven for al-Qaeda and Taliban militants.
Many militants, some of them senior, have been killed in the drone raids, but hundreds of civilians have also died.
Correspondents say that in the past they have had the tacit approval of the Pakistani authorities, although Pakistani leaders always denied secretly supporting them.
In recent months senior Pakistani security officials have reportedly been pressing for a limit to such operations.