Who was the courier who led US to Osama Bin Laden?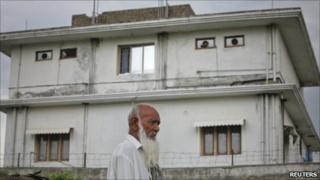 Who was the man said to have inadvertently led the Americans to Osama Bin Laden in Abbottabad?
US officials have identified him as Kuwait-born Pakistani, Abu Ahmad al-Kuwaiti, and say he was Bin Laden's "most trusted" courier.
They said they had been keeping an eye on him since 2002 and that he owned the house where Bin Laden was hiding.
They also said he was killed along with Bin Laden during the 2 May raid.
To his neighbours in the town's Hashmi Colony, though, the owner of the house was known as Arshad Khan - a tall, robust man in his late 30s or early 40s.
Nobody has seen him since the raid.
Fake identity?
The national identification papers which this Arshad Khan produced to obtain gas and electricity connections for the house seven years ago show him to be originally a resident of Khat Kuruna village in Charsadda district of north-western Pakistan.
No-one in that village knows him or his father Naqab Khan, according to his identification documents.
"If the family had their origins here, it would be widely known," a local resident and political activist, Mufti Iftikhar, says.
Arshad Khan also used this apparently fake identity to purchase land for the Abbottabad house in 2004.
Ironically, the land was bought in the cantonment area, which is developed and managed by the military, and is located about a kilometre from the prestigious Pakistan Military Academy (PMA).
An official at Abbottabad's cantonment board confirmed to the BBC that the land was purchased in the name of Arshad Khan, son of Naqab Khan, resident of Charsadda district.
He said he could not provide further details of the property as the file containing property records had been taken away by Pakistani intelligence officials investigating the case.
Pakistan's National Data Registration Authority (Nadra), which keeps identification records of citizens, has not yet commented on when and where Arshad Khan's national ID was issued and who authorised it.
'Feeling intimidated'
Meanwhile, Arshad Khan and the rest of the family left no doubt in the minds of their neighbours that they were not a sociable people.
They never communicated with the community, and people know very little about them.
Neighbours say another man, Tariq Khan, also lived in the same house. But they disagree on whether the two were brothers or cousins.
There are also different versions of what they did for a living.
Some say they were in the foreign exchange business, others say they dealt in smuggled auto parts. Yet others believe they ran a goods transport company.
No-one knows if they had a business office anywhere in the city.
Neighbours say the men were polite, but extremely reserved.
They would greet people when they passed them by, but never encouraged conversation.
A neighbour who met them off and on in the area mosque said he felt intimidated to ask personal questions.
Another neighbour said that ever since he moved into the area in 2007, he had a hunch that the Khans' house was a "dangerous place".
"On several occasions I saw what looked like bullet-proof, four-wheel-drive vehicles coming to the house. I never saw the main gate of the house stay open one second longer than it needed to let a vehicle pass in or out," he said.
Many neighbours report seeing women and children being driven in and out of the house occasionally in one of the two old vehicles that they owned.
But the women never visited other houses in the area.
On rare occasions, a couple of children would come out to play with other children from the area, or walk up to a neighbourhood shop to buy sweets or other provisions.
But such outings were often brief, and overseen by one of the brothers.
Vital source
The fact that the house turned out to be the hiding place of the world's most wanted man creates suspicion that Arshad Khan may indeed have been the Kuwaiti-born Pakistani whom the Americans had been trying to trace since 2002.
To capture Bin Laden, the Americans needed to know who his trusted couriers were.
In 2004, the interrogation of an al-Qaeda operative arrested in Iraq enabled the CIA to corroborate information they had on Kuwaiti.
But because Bin Laden had reportedly banished cell phones and internet from his life, his trail remained cold.
Until August 2010 - when US officials say they picked up a telephone conversation between Kuwaiti and another operative whom the CIA were watching.
This finally led them to the compound in Abbottabad.
One of the pictures of the dead men released by Reuters on Thursday fits the description of Arshad Khan, though neighbours are yet to see and identify him.
For the moment, the only source to identify exactly who he was is Bin Laden's injured wife, and a number of children who survived the raid.
But they are all in the custody of the Pakistani ISI intelligence service, which is widely seen as unable or unwilling to counter Islamic militants in a transparent manner.