Bin Laden: Can US now lever change in Pakistan?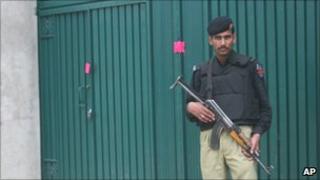 Very few in Washington believe Pakistan's protestations that it did not know Osama Bin Laden was inside its borders.
But it is not the White House, at least not in public, that is asking embarrassing questions and making threats to cut off aid.
It is leaving that to Congress and the US media - while hoping the pressure will make the Pakistani government and its intelligence services change tack.
The CIA and other agencies are meanwhile racing to mine the trove of computers, mobile phones and documents US troops took from Bin Laden's compound for intelligence leads to other al-Qaeda figures.
They will also be looking for evidence of Bin Laden's support network - potentially causing even deeper problems for Islamabad.
Pakistan's extreme discomfort over his death is an "opportunity" says one US official, to persuade it to help bring peace to next-door Afghanistan and to end what is widely seen as its double-game of supporting militant groups as a strategic "insurance policy".
But this opportunity "won't last long", the official admits.
And Pakistan has ridden out pressure like this plenty of times before.
Change in policy
The US wants Pakistan to help roll up the rest of al-Qaeda's network there, including tracking down its number two, Ayman al-Zawahiri, as well as the Taliban leader, Mullah Omar.
Both are thought to have been hiding somewhere in Pakistan.
It also wants the government and its military intelligence service, the ISI, to use its influence on the Taliban and other militant groups to sign up to a reconciliation process in Afghanistan.
The US special envoy for Afghanistan and Pakistan, Marc Grossman, has been in Islamabad to underline this message.
If there is no change in policy, the Obama administration could consider cutting its multi-billion dollar aid package.
That remains a long way off, however angry some US lawmakers are with what they believe is Pakistan's double-dealing.
Always at the back of such calculations are Pakistan's nuclear weapons - and the risk of them falling into the wrong hands.
The fear is that too much US pressure could easily provoke a destabilising backlash against the government. It is a card Islamabad is likely to play again now.
Pakistan has been in just as tight a spot before - also because of Osama Bin Laden, after the 9/11 attacks.
Under pressure from Washington, Gen Pervez Musharraf cut ties with the Taliban in late 2001.
But the Taliban were able to regroup in Pakistan's tribal areas, most believe with the encouragement of the ISI, however much it denies such accusations.
The US has repeatedly accused Pakistan of helping one of the most effective militant groups, the Haqqani network - a group the US itself once had ties with during the Soviet occupation.
Shifting alliances are a permanent feature of this region.
And even if Pakistan decides to change policy again, it is far from clear the Taliban and other groups will listen.