Dismissal of Grameen founder Muhammad Yunus is upheld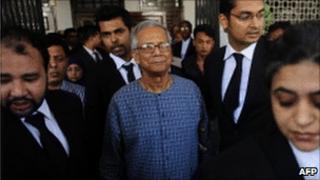 Bangladesh's top court has dismissed a final attempt by Nobel laureate Muhammad Yunus to overturn his sacking from the Grameen Bank he founded.
Mr Yunus lodged an fresh appeal after the court in April upheld the decision by the central bank to remove him.
The bank said Prof Yunus had been improperly appointed. He argued that the move was politically motivated.
The Grameen Bank has pioneered micro-lending to the poor by giving small loans to millions of borrowers.
"The Supreme Court has dismissed Mr Yunus's final petition," Attorney General Mahbubey Alam told the AFP news agency after a short hearing.
"After this order, Mr Yunus should not cling to his position any more."
The country's central bank removed Prof Yunus, 71, from his post last March, saying his continuing work at Grameen Bank violated laws that state public servants must retire at the age of 60.
Prof Yunus's removal from the Grameen Bank sparked criticism from some of Bangladesh's foreign donors, including the US.
He fell out with Prime Minister Sheikh Hasina after trying to launch his own political party in 2007.
Prof Yunus says his dismissal is part of a government plan to take full control of the bank. The government denies this.