Pakistanis left numb by Bin Laden killing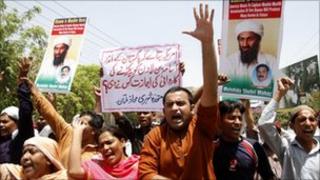 Pakistanis have been shocked into silence by the killing of Osama Bin Laden.
There have been few protests - or public expressions of any kind - since US Navy Seals killed the al-Qaeda leader in Abbottabad on Sunday night.
"I feel numb - I really don't know what to say," Arsalan Mateen, a manager in a Karachi-based multinational company, told the BBC.
"Frankly speaking, I think this is just going to lead to more bloodshed in Pakistan.
"They have just killed one person - not destroyed the operational command and control structure of al-Qaeda. There are grave implications for Pakistan's internal security. I really don't think it's going to make this region, or the world any safer."
But it's not just the fall-out from the special forces' raid that has Pakistanis worried.
Many believe the whole incident was just a ruse to portray the country in a bad light - and that Osama Bin Laden was never in the compound in the first place.
"We don't know whether Osama was there - we never saw their bodies or the bodies of the others killed in the attack," says Shaista Bukhari, a housewife from Islamabad, echoing a widely-held view here.
"There are so many lies coming out of all governments that the truth seem like lies and lies like the truth. We can't believe their version of events till we have absolute proof."
Like Mrs Bukhari, many here are suspicious about the claims that Pakistani officials were not told of the raid and were unaware about Bin Laden's hiding place.
"Our armed forces are always assuring us that they will protect us. I can't believe they let this happen," says Mr Mateen.
"This means the entire world can now point fingers at Pakistan and call it a state that supports people the West calls terrorists and militants."
This is another point on which most Pakistanis differ from the West - whether Bin Laden was responsible for all he has been accused of.
"They say he was responsible for the New York (9/11) attacks, but have never given any concrete evidence," says Shahnawaz, a shopkeeper in Islamabad.
"He was just fighting for the rights of oppressed Muslims everywhere - that was his real fault."
'Struggle goes on'
This view is shared by many Pakistanis - especially the religious hardliners.
"Sheikh Osama Bin Laden is a hero of Islam and symbol of our struggle against the West," says Maulana Asmatullah, a Jamiat-e-Ulema-e-Islam (JUI) MP, said to have close links to the Taliban leadership.
The JUI is one of the few parties to come out on the streets so far - holding several demonstrations in Quetta against the killing of Bin Laden.
In Karachi a small prayer ceremony was organised on Tuesday by Jamaat-ud-Dawa, an Islamic charity accused of links to militant groups.
Several hundred of the group's members attended the gathering in the east of the city, many openly weeping as the last rites were conducted. The public were invited, but few turned up.
Maulana Asmatullah wants the government to explain how the attack took place without its consent.
"I would also like to add that if Sheikh Osama is indeed dead - then there is no more rationale for the US to be in this region," he told the BBC.
"They wanted to kill him, and now he's dead they should leave immediately."
Many ordinary citizens believe that too.
"America has killed the man they said was responsible for all those attacks against the US. Its mission is accomplished - and it's time for them to leave us in peace," says Arsalan Mateen in Karachi.
Ahmed Nadeem, a bank executive in the city, says: "It's not just security - our economy has also been severely damaged due to the conflict. Osama is dead and they should now go."
For the militants, however, it's not the end of the story.
Mohammad Younis, a young Taliban member who has fought for four years on the fronts of Ghazni, Helmand and Kandahar, says Bin Laden was "like my father".
"I can't really describe my grief to you," he told me in southern Pakistan.
"But jihad is not and never was about one man. We mourn his loss, but the struggle will never stop.
"We will make all those responsible for his death pay - in Afghanistan and across the world.
"Let them rejoice now - soon they will feel fear again."