Osama Bin Laden: Pakistan press lambasts government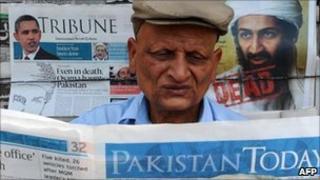 Pakistani papers condemn the government for having failed to detect the presence of al-Qaeda leader Osama Bin Laden in Abbottabad, terming it a "great embarrassment".
The press says that it was enough to make the US ask Pakistan "very difficult questions", and urges the authorities to take a stronger stand against terrorism and explain whether Pakistani forces were involved in the operation to kill Bin Laden.
A few papers express disbelief about Bin Laden's death and the manner of the operation, dubbing it an attempt to boost the morale of US troops in Afghanistan and President Obama's re-election campaign.
Two papers call on the US to quit Afghanistan, saying it now has no right to be there.
Dawn (Karachi liberal English daily)
"Not since Abdul Qadeer Khan confessed to transferring nuclear technology to Iran and Libya has Pakistan suffered such embarrassment. Right under our military's nose was found Osama Bin Laden, the most wanted man of the decade, living in relative comfort in a compound with stringent security that somehow went unnoticed… Add to this the way he was killed, and embarrassment turns into deep shame… We are to believe that all of this took place without the knowledge of the Pakistani authorities, at least according to the official line… All this leaves us with is multiple sources of embarrassment and worry."
Daily Times (Lahore moderate English daily)
"These are highly suspicious and deeply embarrassing circumstances, given the fact that Pakistan has been an ally of the US in the war on terror since 9/11. To have al-Qaeda's supreme leader found on our turf, living in a relatively comfortable shelter, right under the nose of the military, is enough to make the US ask us some very pressing, very difficult questions. While the US ire is expected in the coming days, one wonders how the army is going to answer a few home-grown questions, which are deeply suspicious of its claim that the military was not involved in the operation."
Jasarat (Karachi Urdu daily of right-wing Jamaat-i-Islami party)
"If this is a victory at all, it is the victory for the US. It is a great embarrassment for Pakistan and will invite countless dangers for us."
The Express Tribune (Karachi moderate English daily)
"The Abbottabad operation has left Pakistan looking somewhat foolish. It now needs to find ways to make amends, both by assessing why Osama's presence in a huge mansion was not detected and by going after the militants, taking swift advantage of the demoralisation or confusion that may exist within at least some outfits as they consider their future strategy."
The Nation (Islamabad nationalist English daily)
"The presence of 'Osama' in our midst provides ideal ground for Pakistan-bashers to justify their claim that there are terrorist sanctuaries in the country. The US might accuse Pakistan of failing in intelligence and co-operation. Thus, one should expect louder howling from US officials to 'do more' and intensified drone attacks and, at the same time, trouble from the Pakistani Taliban Movement, al-Qaeda and militants groups allied to them. Certainly, we have difficult times ahead!"
Nawa-i-Waqt (Islamabad conservative Urdu daily)
"Whoever was killed in this operation - Osama or somebody else - the situation is dreadful for us. This operation in Abbottabad has left a big question mark over our sovereignty and freedom… If the US starts direct action in Pakistan, not only will our economy be affected, but our security will also face serious dangers."
Jang (Rawalpindi mass-circulation Urdu daily)
"The US has been openly saying that the war on terror has not come to an end with Osama's killing. They will continue the war until the last terrorist is gone. The leaders of Pakistan should understand this dangerous US attitude and should adopt a concrete policy to save the country."
Pakistan Observer (Islamabad pro-army English daily)
"Details are still sketchy and important links are missing in the story, and that is why there is an element of disbelief in Osama's death… The hush-hush style has helped strengthen the belief that the tricky CIA might have even hoodwinked President Obama… There are also several other questions, including whether it is a crude attempt to create a justification for shifting the war on terror to Pakistan, besides giving a boost to President Obama ahead of presidential elections and providing adequate face-saving for beginning the planned withdrawal from Afghanistan."
Khabaroona (Peshawar moderate Pashto daily)
"The US has no legal right to continue its operations in Afghanistan and Pakistan after Osama's killing, because if it continues the fighting it will be a fight against the people of Pakistan and Afghanistan. If it does not change its policy towards both countries it will bring very dire consequence for the US, which will be solely responsible."
Jinnah (Islamabad Urdu daily, critical of US)
"The US must withdraw its forces from the region after Osama's killing so that the increase in terrorist activities here due to its presence can be reduced. Pakistan and Afghanistan can handle the situation better. So bidding farewell to the US would be the best policy."
BBC Monitoring selects and translates news from radio, television, press, news agencies and the internet from 150 countries in more than 70 languages. It is based in Caversham, UK, and has several bureaux abroad.