Eleven sentenced to life for Bangladesh gang rape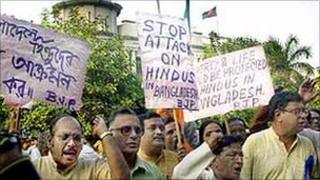 A court in Bangladesh has sentenced 11 people to life imprisonment for gang raping a female school student during post-election violence in 2001.
A judge in the town of Sirajganj delivered the verdicts on Wednesday.
Six of those convicted were in court to hear their sentences, but five are still on the run and were convicted and sentenced in their absence.
The court heard that the victim was a Hindu. There were several attacks at the time against religious minorities.
A judicial commission in April concluded that more than 200 Hindu women had been raped following the 2001 parliamentary election. It was won by the Bangladesh Nationalist Party (BNP) and its Jamaat-e-Islami allies.
Both parties have steadfastly denied any link to the rapes.
Many terrorised Hindu families were forced to flee Muslim-majority Bangladesh at the time to India, the commission said.
All of those convicted on Wednesday were members of the BNP, which is now in opposition.