India: Maoist landmine attack kills police in Jharkhand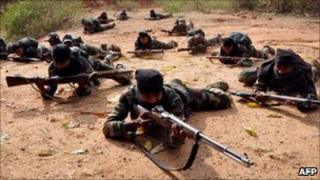 At least 11 police personnel have been killed in a landmine attack by Maoist insurgents in the eastern Indian state of Jharkhand, police say.
Another 25 police were seriously injured in the blast in Lohardaga district.
Active in several states, Maoists say they are fighting for the rights of indigenous tribespeople and rural poor.
India's prime minister has described the Maoist insurgency as the country's biggest internal security challenge.
Raj Kumar Mallik, police spokesman for Jharkhand, told the BBC the police team landed in a trap laid by Maoist rebels.
Paramilitary and state police were dispatched to the Sendha area, acting on information that Maoists had set up camp there, Mr Mallik said.
"But as soon as they were near Sendha a powerful landmine exploded, ripping up police vehicles. The information was deliberately planted by the Maoists," he said.
Police officers with serious injuries were air-lifted to a hospital in the state capital, Ranchi.
Elsewhere in the state a senior police officer was injured in an encounter with Maoists on the Ranchi-Jamshedpur national highway.