Hillary Clinton urges Taliban to abandon violence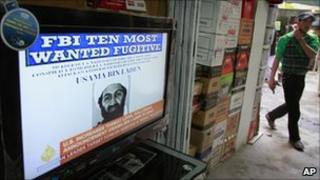 US Secretary of State Hillary Clinton has urged the Taliban to reject violence and "rejoin society" following the death of Osama Bin Laden.
She said his demise proved the Taliban "cannot wait out or defeat the US".
Mrs Clinton said that while Bin Laden's death was a significant milestone, the "battle to stop al-Qaeda and its syndicate of terror" was not over.
She said the operation to find and kill him showed that the US would never abandon its pursuit of justice.
'Syndicate of terror'
"Our message to the Taliban remains the same, but today it may have even greater resonance: you cannot wait us out, you cannot defeat us, but you can make the choice to abandon al-Qaeda and participate in a peaceful political process," she said in brief remarks at the state department.
She said the operation to find and kill the al-Qaeda leader nearly a decade after the 9/11 attacks showed how determined the US was, and how it would continue to boost its counter-terrorism co-operation with other countries, including Pakistan.
The battle to stop al-Qaeda and its "syndicate of terror" would not end with Bin Laden's death, Mrs Clinton added, insisting the US would continue taking the fight to al-Qaeda and its Taliban allies.
She said that she wanted to offer her thoughts and prayers to "the thousands of families whose loved-ones were killed in Osama Bin Laden's campaign of terror and violence".
Those attacks included embassy bombings in Africa, the strike on the USS Cole in Yemen in 2000 and the 9/11 strikes.
"These were not just attacks against Americans, although we suffered grievous losses. These were attacks against the whole world," Mrs Clinton said.
"In London and Madrid, Bali, Istanbul and many other places, innocent people - most of them Muslims - were targeted, in markets and mosques, in subway stations and on airplanes.
"Each attack was motivated by a violent ideology that holds no value for human life or regard for human dignity."