Al-Qaeda leader Osama Bin Laden dead: Your reaction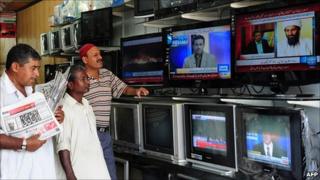 BBC News website readers in Pakistan and Afghanistan have been sharing their views on the death of al-Qaeda's founder and leader, Osama Bin Laden.
Osama Bin Laden evaded the forces of the US and its allies for almost a decade, despite a $25m bounty on his head.
Haroon, Lahore, Pakistan
I think we all need to ask ourselves if this is the beginning of the end or the end.
Osama was not an individual, he was a mindset.
I am surprised that the whole world just refuses to recognise that he was just one of the many manifestations of inequality, injustice and insanity that still prevails.
We in Pakistan have a far greater insight into the war against terrorism to be jubilant and take the simplistic view that with Osama Bin Laden eliminated, our lives, streets and country is safe.
Jalalzai, Kabul, Afghanistan
People in Kabul are happy.
This incident has showed Pakistan's real face in the fight against terrorism.
M Aslam, Islamabad, Pakistan
Well when one says that Pakistan plays a double game with US then I believe it's true.
And I believe Pakistan is on the right track by doing so because all the Western countries - including the US - always play a double game with Pakistan.
They are currently pretending that Pakistan is their top ally which is not the fact. Actually Pakistan is their requirement until they achieve their objectives in Afghanistan.
Once the US and its allies achieve their so-called objectives in Afghanistan they will turn to Pakistan. That is why they are being involved in destabilising it politically as well as economically.
I would like to ask the Western world where were they when Osama was being used by the US against Russia?
Osama was their own baby and they themselves nurtured him.
The mistrust between America and Pakistan will always be there because the whole nation is with the firm point of view that the US is not loyal to Pakistan and they have always bitten our back. So how can they expect good deeds in return?
If the US wants to win the hearts of the Pakistani nation they have to be loyal to the Pakistani people.
Osama has to be dead now because US forces want to earn some distinction before their withdrawal from Afghanistan, that's it.
I will treat this another step against Muslims.
Syed, Abbottabad, Pakistan
It is all very hard to believe.
I know that he had sympathisers but I cannot believe they wouldn't have wanted the $25m reward.
Zeeshan, Islamabad, Pakistan
Just viewed the international media and what is the most shocking and disappointing thing to me is that there is not a single word of appreciation for Pakistan and its sacrifices.
Not a single word of thanks for the Pakistani nation and its army. How disgusting!
The most sacrifices and efforts in the war on terror are and have been by Pakistan; and without the support of Pakistan, all this success of the US would be near to impossible.
At least give a word of appreciation for the hundreds and thousands of martyred Pakistanis who have died in the war on terror.
Elog, Kabul, Afghanistan
This is a great news for every peace-wanting human being.
The backbone of al-Qaeda is broken.
We knew the culprit from the beginning.
I wish the anti-terrorism alliance could have listened to us a few years back, so they could have hunted the right person, at the right time and in the right place.
Wasifur, Karachi, Pakistan
Osama was leading a war against the West on his own.
Any sympathy or moral support from general Muslims he might have had in the beginning was lost due to some of al-Qaeda's un-Islamic actions.
Pakistan deserves to be favourably mentioned by American leadership for its positive role in the war against terror because without Pakistan's support, this operation would not have been possible.
Noor, Balkh, Afghanistan
As an Afghan, I have my doubts about the death of Osama.
There are a lot of pictures on the internet relating to Osama being dead but none of them is official and real.
The US should broadcast the real pictures of Osama after his death to prove that they actually killed him.
There is no sign of reality so far... maybe Osama was killed a long time ago... who knows?
Aik, Islamabad, Pakistan
I wish the US would change its policy of aggression.
One day they will have to sit and talk with these terrorists and discuss their problem, otherwise this so called war against terror will continue.
The death of Bin Laden is just a symbolic event - the problem of terrorism is getting harder day by day and it [Osama's death] will not have any effect on terrorism.