India says Pakistan 'a terror sanctuary'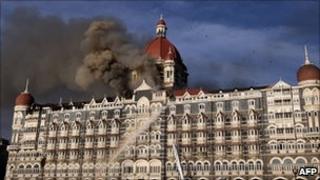 The killing of Osama bin Laden near Islamabad is proof that "terrorists belonging to different organisations find sanctuary in Pakistan", Indian Home Minister P Chidambaram says.
President Obama's statement that the Al-Qaeda leader was killed in Abbotabad "deep inside Pakistan" was a matter of "grave concern", he said.
The minister urged Pakistan to arrest those behind the 2008 Mumbai attacks.
India has blamed the attacks on Pakistan-based Lashkar-e-Taiba group.
After initially denying the charge, Pakistan later admitted that some of the attacks were planned on its territory.
Ten gunmen attacked multiple targets in Mumbai, killing more than 165 people.
The sole surviving gunman, Pakistani national Mohammad Ajmal Amir Qasab, was captured and tried in an Indian court.
He was convicted and given death penalty last year.
Lashkar-e-Taiba is outlawed in Pakistan, but India maintains that Pakistan's security forces retain ties to the militants.