Afghanistan: Prison governor arrested after mass escape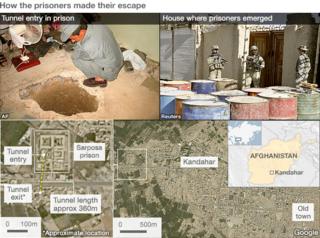 The head of the main prison in the Afghan city of Kandahar has been detained after about 500 inmates, many of them Taliban, escaped on Monday.
Gen Ghulam Dastgir, Sarposa prison's governor, was handcuffed along with his deputy and several bodyguards, after they were questioned by investigators.
The Afghan justice minister said on Tuesday that the escapees must have had inside help.
They escaped through a long tunnel dug from outside the prison.
Gen Dastgir, his deputy for administrative affairs, another officer connected with Gen Dastgir, and the general's four bodyguards were detained on Wednesday.
The arrests came after they were questioned by an investigative team including officials from the ministry of defence, the ministry of justice and the National Directorate of Security.
They are to be transferred from Kandahar to Kabul while the investigation continues. They have not been charged.
Convoy of vehicles
The prisoners escaped through a 360m-long tunnel which led to a house outside the prison.
On Tuesday Justice Minister Habibullah Ghaleb said the escapees must have had help on the inside.
"The mass escape of the prisoners from one tunnel indicates inside help and facilitation from the prison," he said in an initial report.
He said the inmates should not have been able to access the room where the tunnel began, and that the "big convoy" of vehicles used to move the prisoners from the house should have been spotted from the prison.
Mr Ghaleb criticised Canadian and US troops who have been responsible for security improvements to the prison. He asked how they had failed to notice the tunnel was being dug underneath their feet.
He also said the house where the tunnel began was searched 10 weeks ago but nothing was reported.
A Taliban spokesman said the tunnel had been dug over a five-month period.
Mohammad Abdullah, one of the inmates who the Taliban claimed had helped organise the escape, said "friends" had obtained copies of the keys to the cells, suggesting collusion by the guards.
A senior security official told the BBC that prison guards had sold Taliban inmates mobile phones.
Prisoners not involved in the escape told the BBC that Taliban prisoners had special privileges, such as family visits, not accorded to others.
The BBC's Bilal Sarwari in Kandahar says intelligence agencies had warned the prison officials of a possible Taliban attack or other attempt on the prison and to be on alert.