India's emotional farewell to Sathya Sai Baba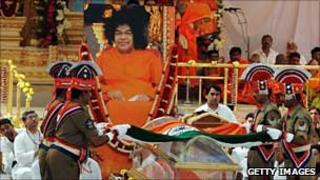 Long live Baba! The chant echoed down the street outside Prashanti Nilayam (Abode of Peace), the ashram that Sathya Sai Baba set up in Puttaparthi.
Thousands of people were packed tightly in the narrow lane, many of them seated on the ground, their hands joined in prayer as they murmured his name.
These were ordinary Indians, people who believed Sai Baba to be a living God, someone who could perform miracles. Many of them had travelled vast distances just to be here.
The overwhelming emotion was one of grief and intense devotion.
"I cannot believe he's left us," sobbed one man.
"When I heard the news I jumped into my car and drove all the way here. What will we do now? Who will we turn to?"
Crossing boundaries
The actual funeral took place behind closed doors, open only to family, members of Sai Baba's charitable trust and high ranking politicians - another reminder that in death as in his life, he drew some of the country's most powerful personalities.
A multi-faith service preceded the actual funeral ceremony.
Muslim, Christian and Sikh priests read from their scriptures before orange-robed Hindu clerics took over.
It was yet another illustration of Sai Baba's brand of ecumenical spiritualism which attracted so many, cutting through social and religious boundaries.
Clad in white, the privileged few who were allowed in looked on as Sai Baba's body was lowered into a grave just behind where his glass casket had stood over the past two days - and from where he used to preach and bless the millions who came to see him over the years.
An honour guard brought in an Indian flag to be draped over the coffin, giving it the aura of a state funeral.
Puttaparthi owes everything to its most famous son.
Once an impoverished village, it now has grand, fantastically designed public buildings housing a university, a hospital, sports facilities and music schools.
Hotels and apartment blocks are dotted on its landscape, catering to the many who make the pilgrimage.
But some are nervous, wondering if this will last.
"When he was alive, so many came here," says one shopkeeper.
Future tense
"We were able to make a living. Now the future is uncertain."
Judging from the intense devotion and faith among the hundreds of thousands who have come here over the past two days, Puttaparthi will continue to attract many.
And there are those who believe that Sai Baba's message is even more relevant today.
"People today are so selfish, we've forgotten how to share," said Lynne, who has come all the way from Leicester in the UK.
"Everywhere I look in India I see so much poverty, people scavenging for food while others drive by in a Rolls Royce. Is that fair?"
It explains perhaps why in an India that prides itself as a rising economic power, there is still a special place for spirituality.