Al-Qaeda 'Afghan number two' Abdul Ghani killed - Nato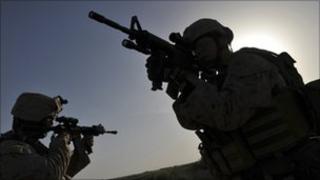 International forces in Afghanistan say they have killed their number two insurgent target in the country - senior al-Qaeda leader Abdul Ghani.
The Saudi citizen died in an air strike almost two weeks ago in Kunar province, near Pakistan, Nato-led forces said.
Abdul Ghani, also known as Abu Hafs al-Najdi, ran training camps and planned attacks on tribal leaders and foreigners, the Nato statement said.
Nato estimates some 100 al-Qaeda members still operate in Afghanistan.
The alliance says it has killed more than 25 al-Qaeda leaders and fighters in the past month. There is no independent confirmation of the claim.
A spokesman for the Nato-led International Security Assistance Force (Isaf) would not say who was number one on the most wanted list, citing the possibility of hampering the search.
Abdul Ghani has been blamed for directing a number of high-profile attacks - including the death of Malik Zarin, a tribal leader in the east who was a close ally of President Hamid Karzai.
Zarin and nine other people were killed in a suicide attack on the same morning as the militant leader's own death.
'Significant'
Ahmed Rashid, an expert on the Taliban, told the BBC that the death of Abdul Ghani was a significant achievement for Nato.
"He's been helping organising some of the Pakistan Taliban groups on the Pakistan side of the border, and was obviously trying to do the same on the Afghan side of the border," Mr Rashid said.
Mr Rashid said US forces had withdrawn from some of these mountainous districts, giving al-Qaeda the opportunity to fill them and try to recreate the bases they had five or six years ago.
The International Security Assistance Force (Isaf) said Abdul Ghani controlled a network of insurgents that targeted security forces outposts throughout Kunar province.
"Abdul Ghani commonly instructed subordinate leaders to conduct kidnapping operations against foreigners... and he was responsible for directing suicide bomb attacks targeting US government officials," Isaf's statement said.
Nato has been pursuing him since 2007. He is also number 23 on a Saudi list of most wanted militants.
Huge manhunt
Al-Qaeda now depends more and more on the Pakistan Taliban, Mr Rashid says, because the Afghan Taliban are less welcoming and publicly do not want to be associated with the group.
As a result there is not much need for al-Qaeda to be present in the key battlefield zones of southern or eastern Afghanistan, he said.
"Rather they like to make their own bases in these very underpopulated areas and - in case they have to run from Pakistan - these places along the border suit their interests very well," Mr Rashid said.
Separately, Afghan officials say they have recaptured 65 of the more than 470 prisoners who escaped from Kandahar prison on Sunday night. Most were Taliban fighters.
The authorities in Kandahar said a massive manhunt was launched by Isaf and Afghan security forces immediately after the escape, which had "massive civilian support and positive results".
However, the BBC's Quentin Sommerville in Kabul says the escape is a further setback for security in the area, and for the fight against the insurgency.
A spokesman for Afghan President Hamid Karzai described the escape as a "disaster" which should never have happened.
Nato forces are preparing for the long process of withdrawal from Afghanistan. The first stage of that process is the transfer of security powers to local forces from July.