Pakistan navy buses hit by twin blasts in Karachi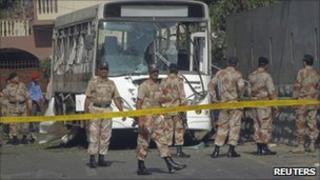 At least four people have been killed in two bomb attacks on buses carrying naval personnel in the southern Pakistani city of Karachi, police say.
Fifty others were hurt in the blasts, which took place in quick succession in areas 20km (12 miles) apart.
Police said the attackers detonated the bombs remotely as the buses passed.
There was no immediate claim of responsibility, but the attacks appear to have been the work of insurgents battling Pakistan's security forces.
Militants linked to al-Qaeda and Taliban have carried out numerous attacks in Karachi in the past.
Separately, at least 13 people were killed in an attack on a bus in the province of Balochistan. Four unidentified gunmen boarded the vehicle as it travelled to the city of Quetta from Peshawar and set it ablaze, police.
The motive for the attack near the town of Sibi is unknown - it is not thought to be linked to the Karachi violence.
Roadside bombs
Tuesday's blasts in the commercial capital were so powerful they damaged nearby houses in the city, where the Pakistani navy's main facilities are located.
The first bus was attacked in the Defence area. Minutes later, a second explosion shook another bus carrying naval staff in the Baldia Town area of the city.
Police said in both cases explosives had been planted by the side of the road.
A junior naval officer and a civilian doctor were among those killed, a navy spokesman told Reuters news agency.
The attacks come four days after a gambling club in the city was bombed by suspects who the police say are affiliated with Taliban groups based in the country's tribal region in the north-west.
Karachi, Pakistan's commercial capital, has also been hit by a wave of political and ethnic attacks blamed on local gangs. Hundreds have been killed over the past year.