Pakistan: Nato supplies resume after rally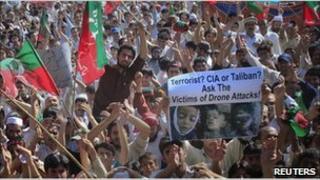 Supplies to Nato forces in Afghanistan have resumed after protests over drone strikes blocked a key road in Pakistan for three days, officials say.
The protests was called by Tehrik-e- Insaf, the party of cricketer-turned-politician Imran Khan, over continued US drone strikes in the north-west.
Thousands of lorries were held up by the rally, including 500 supplying Nato troops in northern Afghanistan.
But the lorries managed to cross the border on Monday morning.
Another transit route in the south of the country, which supplies Nato troops based in the southern Afghan province of Kandahar, remained unaffected.
Political blockade
More than 3,000 trucks carrying supplies from the Pakistani port of Karachi to the Afghan capital, Kabul, pass the northern route each day.
Nato and other supplies to Afghanistan have often suffered disruptions because of militant attacks.
But this is the first time that political protests have caused a blockade, the BBC's M Ilyas Khan in Islamabad says.
US drone attacks have escalated in the region since President Barack Obama took office. More than 100 raids were reported last year.
The strikes are are hugely unpopular with the Pakistani public. Many militants, some of them senior, have been killed in the raids, but hundreds of civilians have also died.
Correspondents say they have the tacit approval of the authorities, although Pakistani leaders deny secretly supporting them.
The US does not routinely confirm it conducts drone operations in Pakistan. But analysts say only American forces have the capacity to deploy such aircraft.