Three Cups of Tea: Greg Mortenson 'facing lawsuit'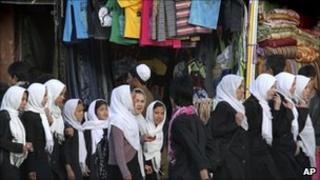 A director at a Pakistani think-tank has said he will sue Greg Mortenson, the author of best-selling memoir Three Cups of Tea.
In the book, the author said he was kidnapped by tribesmen in the South Waziristan region of Pakistan in 1996.
Mansur Khan told the BBC he was "hurt" at the suggestion in the book's sequel that he was the kidnapper.
Three Cups of Tea is at the centre of a row after a US news programme suggested sections were fabricated.
Mr Mortenson, the founder and executive director of the Central Asia Institute (CAI), has disputed the claims made by the makers of 60 Minutes, accusing them of chasing audience ratings.
Though not named in Three Cups of Tea, which describes Mr Mortenson's mission to build schools across Central Asia, Mansur Khan appears in a picture in the sequel.
Best-seller
The sequel is entitled Stones into Schools and, the UK's Guardian newspaper reports, a caption beneath the image suggests Mansur Khan was responsible for abducting Mr Mortenson.
Mr Khan said that, as is a tribal custom, the entire family looked after Mr Mortenson and took very good care of him when he visited the area, where he came as a tourist.
"I am just looking at the situation to see how to approach the court and what plea to take," Mr Khan told the BBC's Ilyas Khan, in Islamabad.
He also disputed claims by Mr Mortenson that he had been held by the Taliban, saying that in July 1996 the Taliban had just taken over the Afghan capital, Kabul.
Three Cups of Tea was published in 2006 and became a best-seller through word of mouth.
The book describes how Mr Mortenson, a mountaineer, got lost while trekking in northern Pakistan, only to be rescued by the residents of a remote village. In the book, he says the kindness of those he encountered inspired him to build a school.